Our top 7 must see Arkansas State Parks
The pros & cons of each and why they rank at the top of our lists.
As you visit Arkansas you will quickly realize why this amazing area is named "The Natural State." Arkansas is bursting at the seams with outdoor adventures, incredible scenery, and plenty of scenic byways for you and your family to enjoy. Arkansas State Parks are scattered all over the state and each one offers something special to every single visitor. After we visited plenty of Arkansas State Park while traveling around in our 35 foot trailer, we rounded up our top 7 Arkansas State Parks that are a must visit. Out of 52 State Parks, these are the top 7 Arkansas State Parks that are absolutely worth a stop.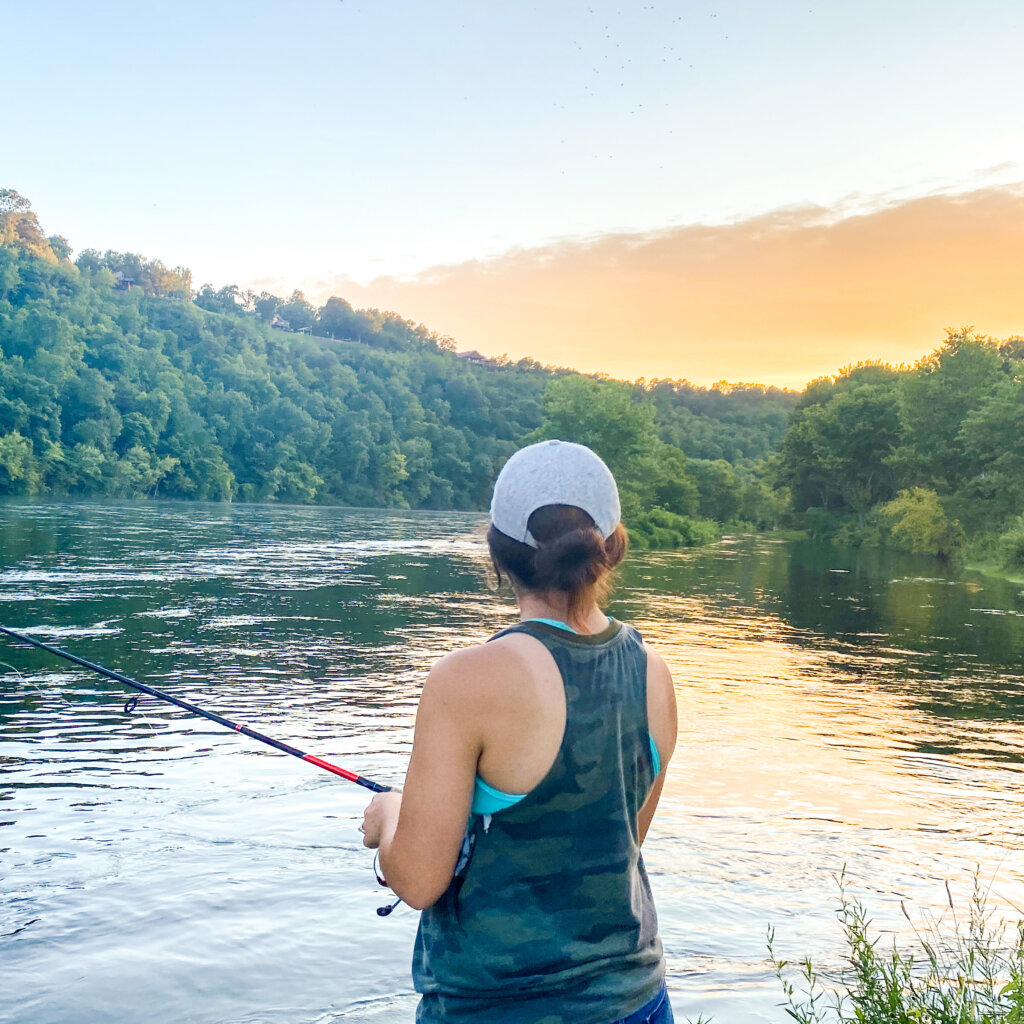 Bull Shoals White River State Park
Bull Shoals White River State Park is located in the North Central region of Arkansas and is an absolute must stop on your trip. People come from all over the country to experience trout fishing along these ice cold waters and many come back year after year. There is just nothing quite like catching a beautiful trout while listening to the sound of the river flowing by.
Pros
-Trout Fishing Heaven
-Plenty of Campsites
-Nearby Bull Shoals Lake
-Rent Boats from Boathouse
-Stunning scenery
Cons
-Tends to book months in advance
Must do:
Fish from the banks or take your boat out on the river to catch the beautifully acclaimed trout that reside in the White River. Just down the road is a resort called Gastons where you can visit Peacocks and grab a bite to eat at their restaurant. You can even fly in with your private airplane to Gaston's landing strip.
Bull Shoals White River Tip:
Bull Shoals White River is a beautiful destination and one of our top Arkansas State Parks. When visiting Bull Shoals White River we recommend booking months in advance to get yourself a good spot. Also, at the boathouse you can rent a jon boat for incredibly cheap, allowing you to get on the water even if you don't own a boat yourself.
---
Petit Jean State Park
Petit Jean State Park is an incredibly popular Arkansas State Park that people visit year after year. No matter what time of year you visit there is plenty to see within the boundaries of Petit Jean State Park from large waterfalls, rock formations, great hiking trails, and more. There is something for everyone to enjoy at Petit Jean State Park.
Pros
-Cabins
-Boathouse in Summer -Months
-Mather Lodge Restaurant
-Two Swimming Pools
-Airport
-95ft Waterfall
Cons
-Incredibly popular so plan accordingly
Must do:
While traveling to Petit Jean State Park in Arkansas, make sure to make time in your trip to enjoy a meal or appetizers at the Mather Lodge. The Mather Lodge is a stunning restaurant that overlooks beautiful scenery and their food is delicious as well. Also, hiking Bear Cave presents some incredibly unique rock formations that make for some magical pictures and opportunities for exploring and climbing.
Petit Jean Tip:
When visiting Petit Jean there are plenty of trails to hike and see everything this amazing park has to offer. The Cedar Falls waterfall is quite a site to see, but is only flowing well after a heavy rain, make sure to call the park office to check in on the status if that is a big reason you are visiting.
---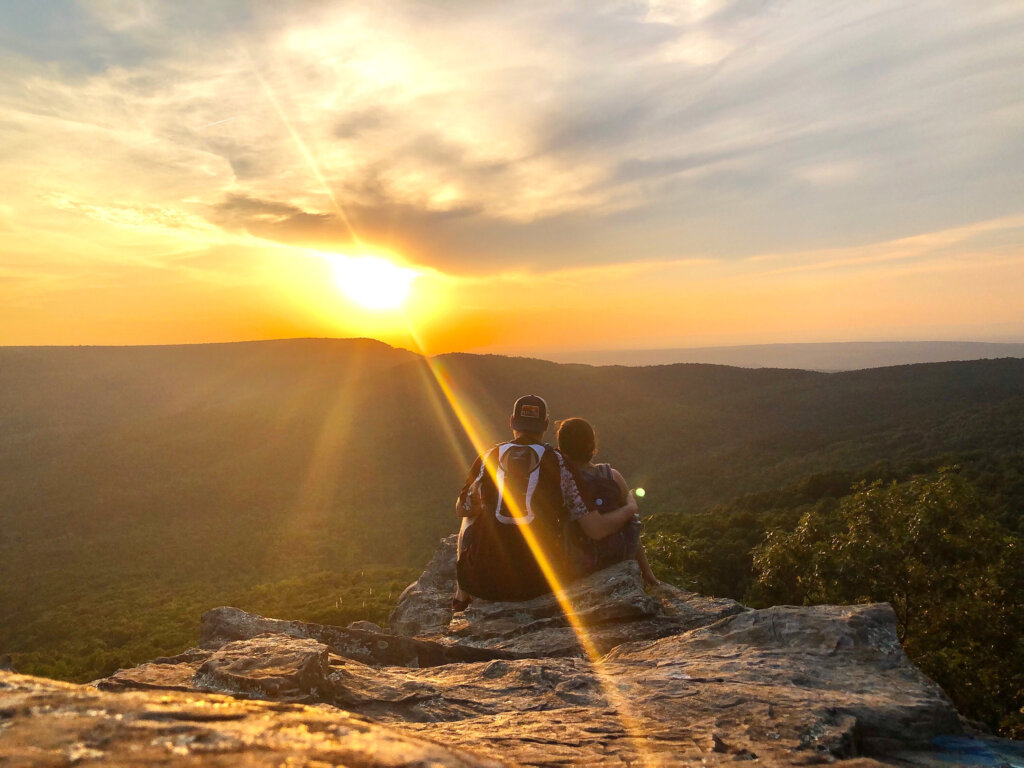 Mount Nebo State Park
Mount Nebo State Park is on the western side of Arkansas and has the most beautiful views of the surrounding area. Whether you want to camp, hike, or go swimming at the perfectly placed lake, Mount Nebo is a great destination.
Pros
-Beautiful Overlooks
-Great Sunset & Sunrise Views
-Easy Trails to Hike
-Plenty of Camping spots
-Waterfalls dependent on weather
-Cooler weather
-Cabins
-Camping
-Pool
Cons
-Driving to Overlooks tends to be crowded, we prefer hiking
-VERY steep drive up
-Trailers over 24 feet are not allowed because of the steep climb
Must do:
We love to hike and with Mount Nebo sitting at an elevation close to 12,000 feet the views you get are remarkable. The best time of day to visit is for sunrise or sunset and to hike the Rim trail.
Mount Nebo Tip:
There is also the chance to drive to Sunset and Sunrise point, but those spots get very crowded. We prefer hiking because there were a bunch of hidden overlooks along the trail.
---
Lake Ouachita
Lake Ouachita State Park sits on one of Arkansas' largest lakes and is made up of hundreds of islands. People come from all over to take their boat into the pristine waters and spend their day out on this beautiful lake.
Pros
-Beautiful Lake
-Plenty of Camping Spots
-Camping on Islands
-Located near Hot Springs, Arkansas
Cons
-To enjoy the lake, you need watercraft or boat
Must do:
Lake Ouachita is made up of hundreds of islands and many people don't realize you can camp on one of these islands anytime you want. Grab your kayak, load up with overnight gear, and have a once in a lifetime experience of camping on an island.
Lake Ouachita Tip:
There are trails here, but to truly experience Lake Ouachita you want to have some kind of water equipment whether that means a boat or a kayak.
---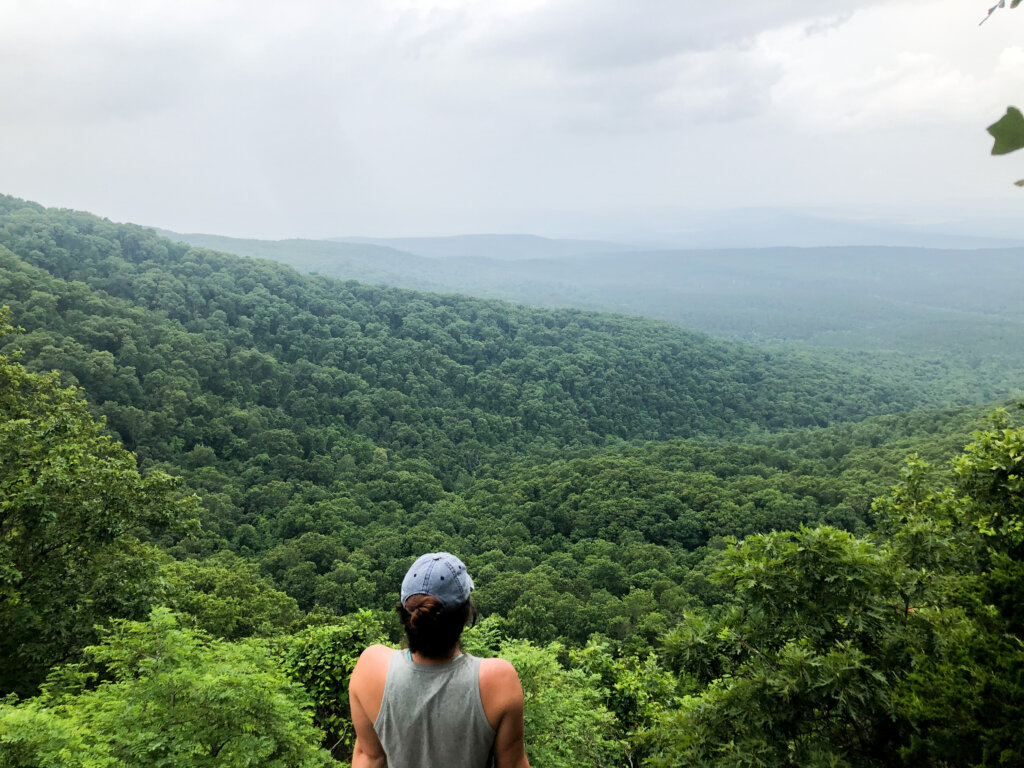 Devil's Den State Park
Devil's Den State Park holds an incredibly special place in my heart, because on the Yellow Rock trail is where we got engaged 5 years ago. Devils Den is perfect to visit year round, our favorite time is in the warmer months so you can take advantage of all of the water you can swim in.
Pros
-Great Hiking trails
-Plenty of places to camp
-Mountain Biking -Opportunities
-Cabins & Campsites
-Backpacking Sites
Cons
-Tends to book months in advance
Must do:
Wake up early and hike to the Yellow Rock trail to see the sunrise appear over the forest of trees below. Grab your lunch and head to the Devils Den Dam where you can listen to the flow of the water pouring off of the day. There are also plenty of backpacking sites where you can cross the river and primitive camp with your friends.
Devil's Den State Park Tip:
Devils Den is a great state park to visit all year round. You can rent canoes at the park, but it only really allows you to canoe a small area. Grab your family and head to the river that flows through the campground area where you can skip rocks, build rock towers, and have a great day full of fun!
---
Queen Wilhelmina State Park
Queen Wilhelmina State Park is an incredible Arkansas State Park that is well known for its fall color and beautiful scenery that people come from all over to see. A popular destination for motorcyclists, Queen Wilhelmina is a great place to camp as well as drive along some incredibly scenic Arkansas roads.
Pros
-Fall Color
-Camping
-Lodge
-Near Scenic Byway
-Restaurant
Cons
-Smaller Amount of Campsites
Must do:
While visiting Queen Wilhelmina, make sure to visit during prime season for fall color and hike the Lovers Leap trail to truly soak in the surrounding scenery.
Queen Wilhelmina Tip:
The campsites are higher up on a hill and if it is a windy day, this may cause an issue with your tent set up. Make sure to bring extra stakes and get a site facing the forest instead of the open field to ensure your campsite is protected.
---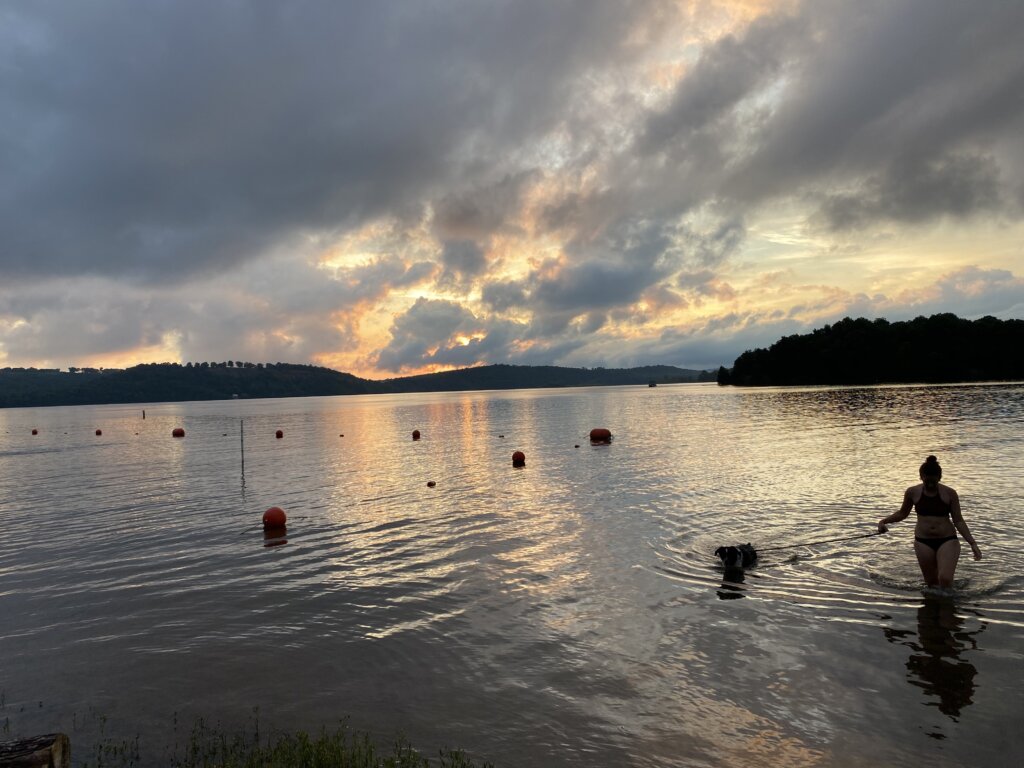 Degray Lake Resort State Park
There is nothing quite like Degray Lake State Park when it comes to Arkansas State Parks. Degray Lake State Park is considered a resort state park because it has a lodge, restaurant, golf course, swim beach, and more. Degray Lake State Park has beautiful views throughout that will have you coming back time and time again.
Pros
-Restaurant
-Rent a Yurt
-Swim Beach
-Resort Lodge
-Golf Course
-Restaurant
-RV Sites
Cons
-Swimming beach can flood in torrential rain
Must do:
Spend your day at the golf course or grab a bite to eat at Degray Lake Resorts restaurant. You can also drive into Hot Springs on Scenic Byway 7 and experience the town of Hot Springs and all that it offers.
Degray Lake Resort Tip:
Degray Lake Resort also offers Yurt camping that will be a fun and unique experience for your entire family.
No matter where you travel in Arkansas, I promise you will find some incredible scenery and views along the way.
Here is to unravelling this life we live, one adventure at a thyme.
With Joy,
Paige