Guide to White Sands National Park

White Sands National Park has been on our radar for quite some time. We have always wanted to dig our toes in the sparkling white Gypsum dunes that seem to go on for miles. As we pulled into the park, our eyes wandered off as we tried to follow the dunes to see just how far they went. These dunes are huge and awe-inspiring to say the least and absolutely worth a visit.
This guide, as well as others on this site, contains affiliate links. Purchasing from these links gives a small amount back to us.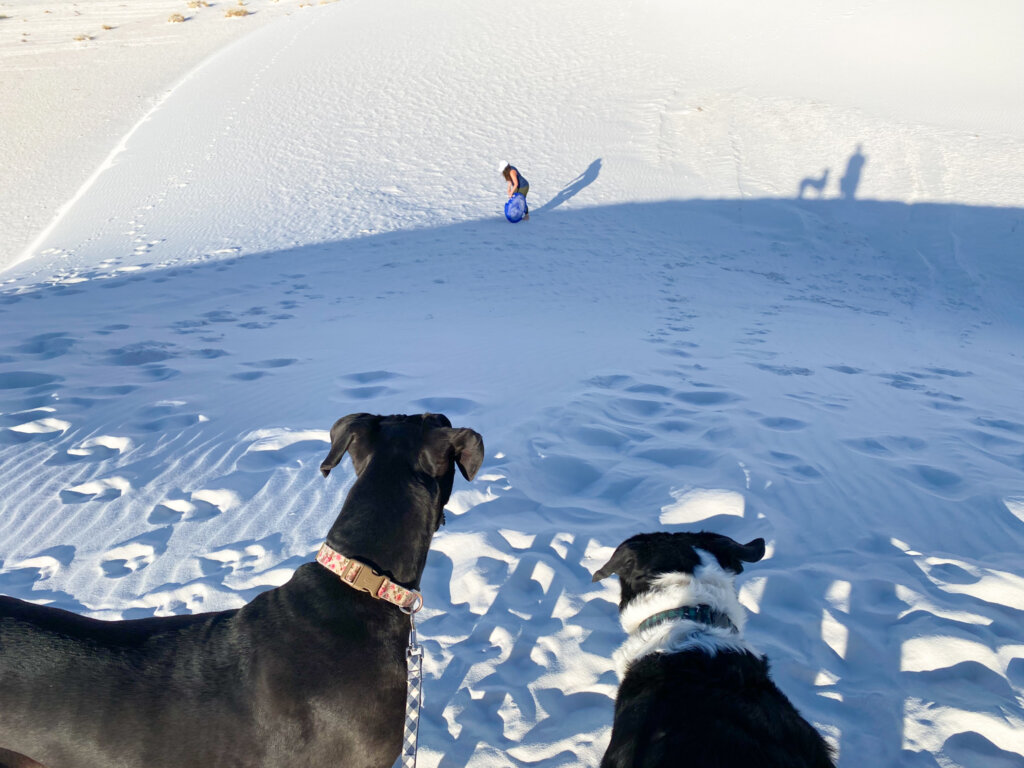 Go SLedding
You may have watched as we attempted to sled down Monahans Sandhills in the heat and flopped. We decided to give sledding another go and White Sands was a gamechanger.
The best part about White Sands National Park, besides the vast area covered in beautiful snow-like Gypsum, is that the Gypsum is cool to the touch. That means even though it may still be a hike up to the top of the sandhills, you aren't battling hot sand all the while.
The visitor center has a stockpile of sleds you can rent both used and new. When we arrived the used sleds were sold out and they only had new ones for 20 dollars. Since we will be hitting two more sandy areas, we decided to grab one to keep. We got so much more traction on the gypsum and could have sledded for hours!
Many of the national and state parks sell ones similar to the ones below, so if you want to get ahead of the game you can buy them on Amazon before you leave.
Bring your pets
Most National Parks have rules about not taking your dogs with you on certain trails, so we often unfortunatley hike without our dogs. Partially because the heat in some areas and the other being the strict rules for them only allowed on certain areas.
We were overjoyed to learn that White Sands National Park allowed pets on the dunes and with the gypsum being cool to the touch it was a great spot for them to be.
Please, please, please do not go anywhere with your dogs without water for them. It isn't fair to them to be hiking and running and not have water and they can get overheated insanely easily. We use collapsible water bowls, l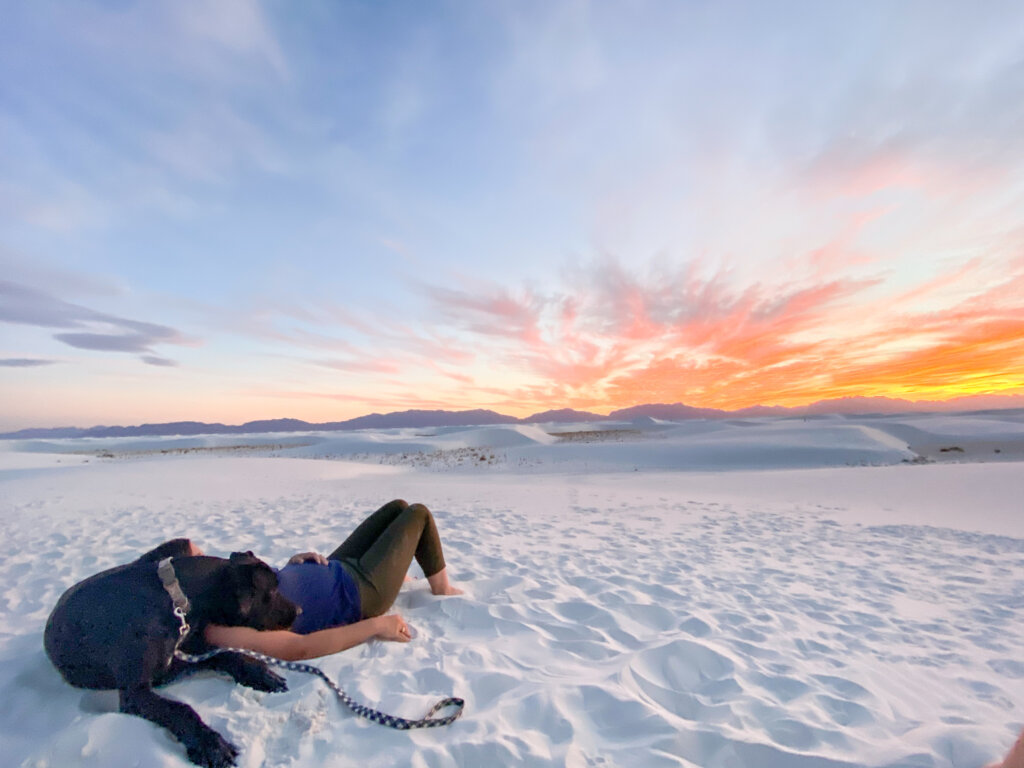 Watch the Sunset
One recommendation we have is to stay for sunset. There is nothing quite like watching the sun go down over massive dunes of gypsum. The best part is that the sunset surrounds you on all sides.

We looked one way and we were greeted with deep oranges and bright yellows and the other way reflected deep purples and pinks. No matter what kind of camera you use it never feels like you can truly capture the colors the best, so take some pictures, but also make sure to take some time to stop and soak in the views.

Arrive earlier than sunset so you have time to trek out to the perfect dune before more people come out. That way you can be all set and have the perfect spot to sled while you wait.
Keep Going
The best tip I can give you for White Sands National Park is to not stop at the first hill. Like every national park, right off the road can get packed with visitors. We walked a ways and climbed a few dunes to space ourselves away from the crowd and it worked out beautifully.

Make sure to always have landmarks and look back to ensure you remember how to get back. It may sound crazy, but once you are out in the dunes it is easy to lose your sense of direction. We arrived later in the day, drove all the way down to the last space (partially sand roads), and parked.

We found a dune that was a good size to sled down and unloaded our backpack and sledded, took pictures, and played with the dogs until sunset. It is smart to find a spot and stay there or else when sunset comes you will have a hard time finding an open dune.

Although there were a good amount of people, once you are out in the dunes it truly didn't feel like it. Everyone seemed to stay in their own little area and because White Sands is so huge it felt we had plenty of space.
Bring Water
We are always shocked by the amount of water we go through when we are hiking, no matter if it's up dunes or up dirt paths. Always make sure to bring multiple bottles of water. We always fill up both hydration packs, Connor uses this one, and bring our own water bottles.

The same goes for if you are traveling anywhere with pets. We often bring their own bowls and extra water bottles so they can have water readily available. These are similar to the bowls we use.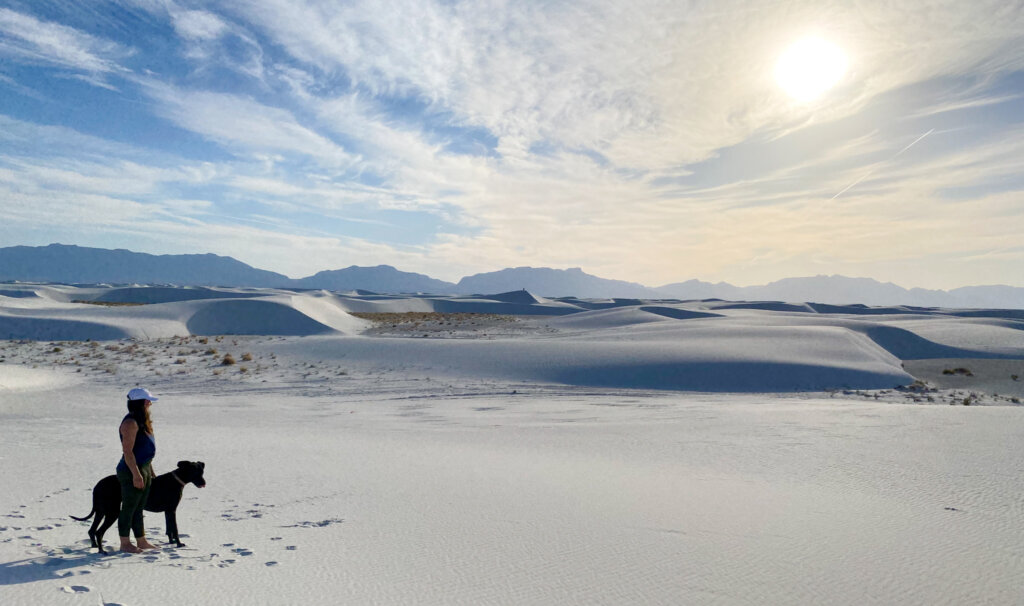 Save Money
If you are planning to visit multiple national parks the best thing you can do is buy a national park pass. For only $80 a year, you get in free to any national park.

Even if you visit one national park multiple times it adds up quickly with entry being $20 or more per car. The America the Beautiful pass not only gets you into national parks, but national monuments and many others areas as well. Absolutely worth the investment.

Here is to unravelling this life we live one moment at a thyme.