Guide To Las Cruces,New Mexico
Although we had never visited Las Cruces, New Mexico before there was plenty to do and see for both those that love the outdoors and those that love exploring the city.
Find our recommendations for visiting Las Cruces, New Mexico. This guide is by no means all of the things you can do in Las Cruces, just our favorite stops.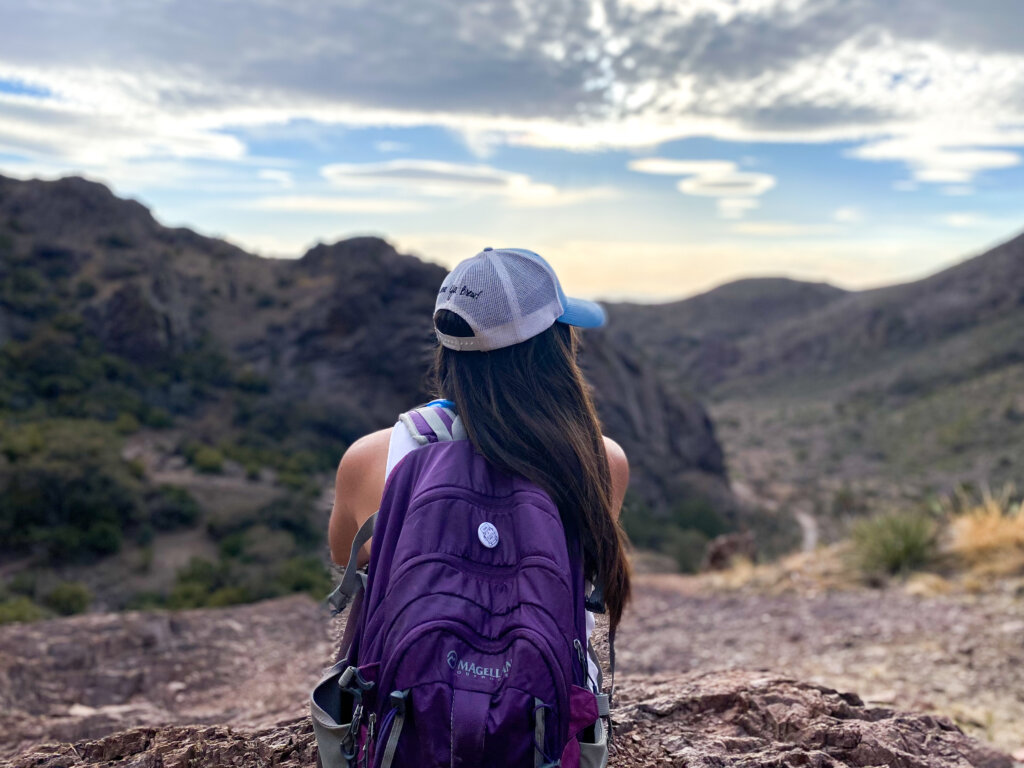 For the outdoor fanatic
White Sands National Park
To be honest, we stopped in Las Cruces so we could have a spot with service to visit White Sands National Park on the weekend. We didn't realize initially all of the fun to be had all around as well.
White Sands National Park is an hour outside of Las Cruces and absolutely, positively worth a stop. With miles and miles of snow like Gypsum, White Sands National Park is truly magical..especially at sunset.
Read my White Sands Guide here.
Dripping Springs Trail | Moderate & 3 miles
As we drove into Las Cruces we were surrounded by the Organ Mountains all around. They are absolutely stunning and we knew we had to find a hike that completely immersed us in this mountain range.
We found the Dripping Springs Trail and we were pleasantly surprised. Not only are you taking a beautiful hike in the Organ Mountains, but as you reach the top you are greeted with a huge dose of history.
As you continue to hike you will come across a mountain camp from the 1900s, complete with old buildings and placards explaining each building. We thought this was truly remarkable and were slightly jealous that people got to stay in such a beautiful spot years ago.
If you head back at dusk you will likely have animals like mule deer and horned frogs join you on your hike. The name dripping springs comes from a small waterfall that is usually near the mountain camp. When we visited it was dried up, but still neat to see nonetheless.
Geronimo's Cave Trail | Moderate 3 Miles
All Trails said Geronimo's Cave trail was 2.5 miles, but it took us longer when we tracked it by our GPS watch. Closer to 3 miles.
If you decide to do this hike it is CRUCIAL to follow All Trails in the beginning because we walked right by where you were supposed to go up. There are multiple trails to get to Geronimos Cave so following a map is important.
The spot we chose had us scrambling up some loose rocks and at the top a smooth skinny trail guided our way. There is a slight breeze, but literally no shade so make sure to go in the morning or evening o truly enjoy your hike.
Also, BRING HEADLAMPS. If you want to crawl back into the cave safely, we recommend bringing a headlamp or two to explore freely. Once you get to the cave it is truly remarkable to see and is full of history that this cave may have been one that Geronimo head out. Also, if you don't know the story of Geronimo we absolutely recommend reading it.
When you get to the cave, you will have a chance to explore safely. Unfortunately, people defaced part of the cave with spray paint over the years, but it looks like there is a steady effort to keep it cleaned up.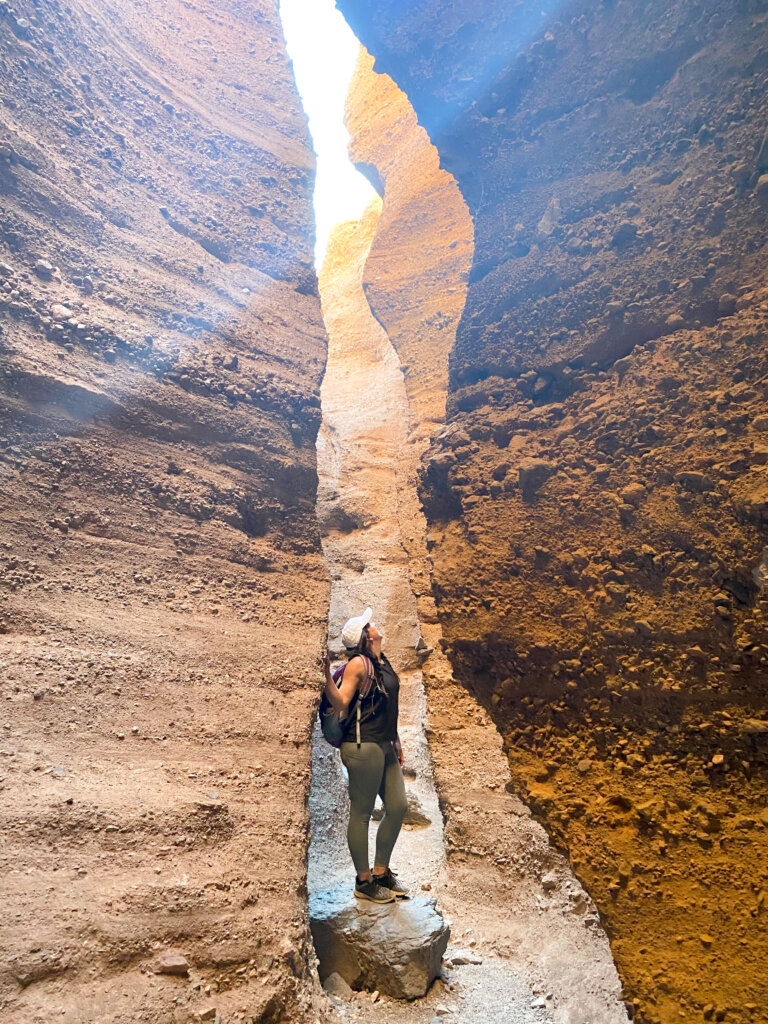 Slot Canyon Trail | Easy 20 minutes
A slot canyon in southern New Mexico? What! Although it's not as robust or vast as the slot canyons in Arizona and Utah, we absolutely loved walking through this narrow trail.
It is important to note that you MUST hop over a fence to access the trail. It isn't necessarily marked, but if you read any articles concerning this trail as well as All Trails you will need to walk over the fence.
There is a parking area and you will see footprints all along the fence too. At first, we were hesitant, but then someone else just came and jumped over it and went on their way. It was a super short hike to get to the Slot Canyon, maybe a 20-minute hike and we hiked up to it and then turned around.
FOR THE City Explorer
Mesilla, New Mexico
Mesilla, New Mexico is an older town that is boasting with character and history. Make sure to walk the town square to enjoy some optimal shopping with stores full of handmade goods and fun souvenirs.
When you visit you will find information about Billy the Kid as he was tried in the local courthouse as well as how Mesilla played a role in the Civil War.
We tried La Posta Mexican food and was truly not impressed. There are other mexican food restaurants in the area that you can try while visiting.
Stop off in Spotted Dog Brewery to grab a bite to eat and an ice cold beer on your way in or out of Mesilla.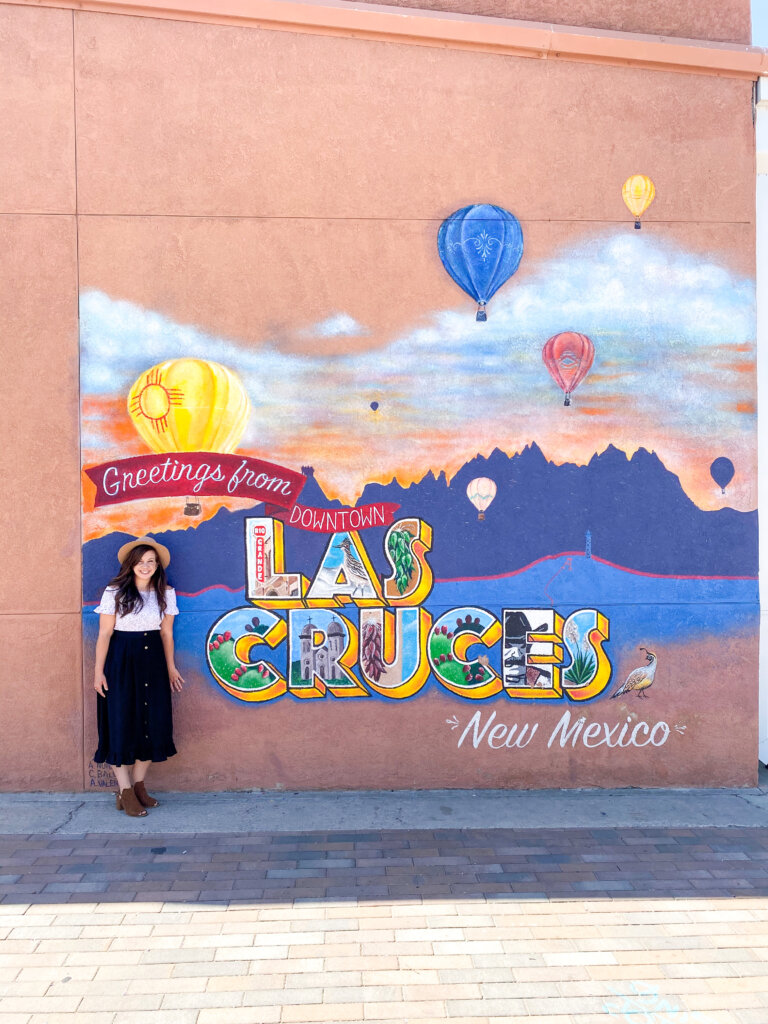 Las Cruces Farmers Market
Las Cruces Farmers Market seemed to go on for a while. There are food vendors, arts and crafts vendors, and so much more.
Make sure to grab an Aguas Frescas or Horchata at one of the food trucks to keep you cool while you shop.
Our favorite things we found while shopping were green chile and pecan freshly baked bread, as well as cinnamon sugar freshly made kettle corn..yum!
Times: Wednesday & Saturday 8:30-1, the market on Saturday is typically significantly larger.
Shopping Downtown
We visited downtown while the Farmers Market was happening, but visiting on any other day would be just as fun. We loved walking the streets of downtown because it is full of such character, you can absolutely spend some time exploring.
Tips for Visiting Las Cruces
Try Green Chiles & Pecans
Known as the Green Chile Capital of the World, Las Cruces has everything you can imagine relating to green chiles.
You can find everything from Green Chile enchiladas, to margaritas, and even popcorn. There is an entire Green Chile Trail that you can find here that shows what special Green Chile dish each restaurant offers.
Another plant you will see lining many roads while driving in and around Las Cruces is pecan trees. Pecans are also widely grown here and while visiting nearby Mesilla there is a store called Legacy Pecans where you can stock up on all of the pecan goodness.
For more travel guides, check them out here.
Here is to unravelling this life we live one moment at a thyme.