Rockport, TX Travel Guide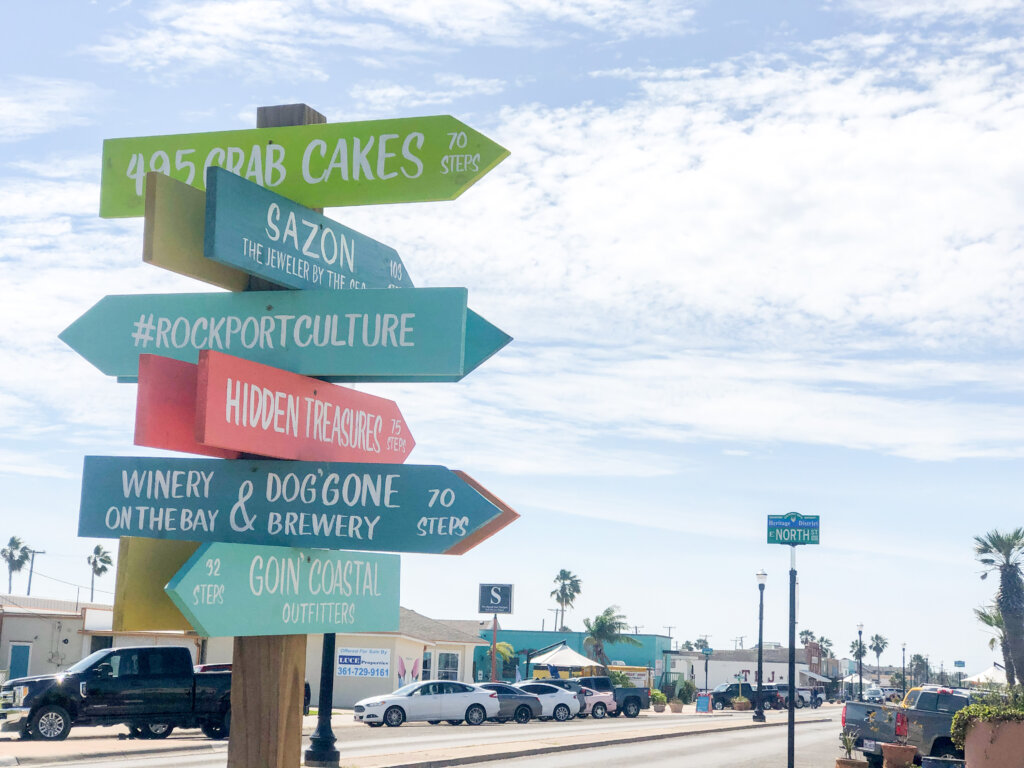 Rockport TX has a little piece of my heart. This town was devastated by Hurricane Harvey and it has come back in a remarkable way. There is so much to see in and around Rockport and it is absolutely a destination that is a worth a visit.
As we drove over the bridge into Rockport we were immediately greeted with southern hospitality and surrounded by stunning nature. Below you will find my Rockport Travel Guide, it is no way everything to do in Rockport just the favorite places we have found along our journey. Happy Adventuring!
Rockport TX Outdoors
Goose Island State Park
Goose Island State Park is just a bridge away from the town of Rockport.
Land of what we called the Doctor Seuss trees, you can see the effect of the wind and natural circumstances on these trees. We were told that at one point, after the hurricane these trees were completely bare and they slowly have been reviving to what they are today.
They have one nature trail but have birding spots set up throughout where they have set up feeders and seating to sit and watch for wildlife. The sites on the outside loop are AMAZING with trimmed hedges surrounding your site, it gives you your own private little space. They have events throughout the week so make sure to check in at the Visitors Center.
About 30 minutes away from Goose Island State Park, this is a must-see for nature lovers. I arrived during the Whooping crane migrating season and was hoping to see some while we were there.
As I checked in, a bird tour was just beginning which was so fun to join in on. There are multiple sites you can pull of, hike in, walk out on a pier, go up on a huge observation deck and even do the driving tour through the rest of the park.
The Whooping Cranes are a HUGE draw to this area because for years they were an incredibly endangered species, down to 15 at one time, mind-blowing. Now there is a flock that migrates from Canada that is around five hundred!
They usually travel as a family unit so in groups of two with their young or if they have lost their mate, the widows combine together to form an odd-numbered group. They stand over 5 feet tall and are incredible creatures.
While I was there we saw alligators, tons of different ducks, Whooping Cranes, Roseate Spoonbills, Egrets, Herons, Hawks, and more! Absolutely bring your camera because you never know what you will see! 3 dollar entry and totally worth it!
Goose Island Big Tree
A Live Oak that is over one thousand years old which is super neat to see if you are a nature fanatic like me. Also, across from the Big Tree is a private pond where you can see multiple bird species such as Sandhill Cranes, Roseate Spoonbills, and more!
We are in love with this beach, we went back at least three or four times while we were visiting. It is identified as a Blue Water Beach which means it is incredibly clean and measures are in effect to keep it that way.
You pay five dollars for an all-day pass into the Beach which is so incredibly reasonable. They have beach umbrellas spaced out along the beach as well as multiple fishing piers and playgrounds.
They do not allow animals and are incredibly strict on trash! They even have designated areas for migratory and local birds. We saw TONS of Laughing Gull as well as a huge flock of Black Skimmers!
Heron & Egret Rookery
Turn left at the light for HEB towards Fulton Beach and as you turn the corner onto the road right by the water look to your left.
Up high in the treetops in the Spring you will see Egrets & Herons flying overhead carrying branches and sticks to create their nests. When we drove by there were SO many in the treetops!
Paradise Key has an absolutely incredible restaurant, bait shop, boat launch, as well as some awesome places to view birds.
As fisherman bring in the catch of the day to the cleaning station you can see Brown & White pelicans of all ages waiting for them to slip up and lose one of their fish.
As you eat you can see all kinds of birds flying by and it is an awesome place to be to watch boats coming and going!
Food
Paradise Key Dockside Grill
We visited Paradise Key multiple times during our time in Rockport and if we lived near it would absolutely be our go-to restaurant. With a full menu ranging from seafood to burgers to queso and more, everyone can find something they love at Paradise Key.
You can sit out on the deck where you can watch the wildlife fly overhead, as well as all the boats, coming and going. We absolutely loved this restaurant and everything we ordered was delicious.
Our all-time favorite thing we ordered, hands down, no questions asked was their Queso with Crawfish Etouffee added. I could have eaten it every day and not been disappointed, it was THAT good!
Our Favorites | Queso with Crawfish Etouffee Times | Mon-Sun 11-9, Happy Hour Mon-Fri 4-6
A cute little deli in Downtown Rockport that offers equally delicious sandwiches and salads. Adorable inside with plenty of options for lunch.
We ordered the Reuben and Roast Beef Melt and we were absolutely not disappointed. Perfect little restaurant if you are already near downtown Rockport for shopping and sight seeing!
Our Favorites | Reuben & Roast Beef Melt Times | Mon-Sat 11:30-2:30
 Adorable little coffee shop in Downtown Rockport. They have indoor and outdoor seating which makes for perfect workspaces or meet-ups with friends. There is also a Philly Cheesesteak Food Truck parked right in front at all times as well!
Their mantra is "where there is coffee, there is joy" which is symbolic to their family as well as a perfect quote for their little slice of downtown Rockport. Times | Tues-Sat 7-3
A cute little coffee shop in Rockport that is a perfect spot to set up shop and work. I visited multiple times and asked for recommendations on iced drinks.
Both times they offered a suggestion of Toasted S'more as well as Pumpkin Chocolate and both were absolutely unique and delicious. The staff is so kind and helpful and the atmosphere is one of kindness and hospitality. Even better is that attached to their Coffee Shop is the Bella Boutique which is home to unique and one-of-a-kind gift ideas!
Times | Tues-Thur 7-6, Mon Wed Fri 7-5, Sat 7:30-5, Sun 8:30-1
Shopping
This boutique is attached to a coffee shop, coffee, and shopping together..what can be better. There are so many different gifts in this Boutique that are unique and creative!
They also have plenty of cute clothing, that you could get your shopping done in one single place!
Times Mon,Fri,Sat 10-5, Tues&Thurs 10-6, Sun 9-1, Wed-Closed
This shop is one that I wish I could have every piece of their clothing in my closet. As you walk in you are greeted with the cutest and most creative decor and the most adorable clothes on the planet.
They have style and it shows in how they display their shop as well as the precious clothing they offer. You absolutely have to stop by this boutique, I am positive you will leave with a new look for your closet!
An eclectic and immensely unique shop that has some of the most interesting gifts and creations inside its walls!
You can find funny and one-of-a-kind gifts for others or decor that will be sure to be a discussion piece. I loved seeing all of their different creative items and perusing their store of handmade decor and gifts! Times | Fri-Sat 11-5
The cutest t-shirt shop on the planet. They have Rockport tees, beach tees, fishing shirts, and more!
They had a t-shirt that said happiness is Chips & Guacamole that I believe could be my life mantra. Shop for a new t-shirt as well as get a scoop or two of ice cream in the back of the shop!
Times | Mon-Sat 10-5:30 Sun 12-4
Even though we want to visit every single place we cannot, so here are some other recommendations for things to do in Rockport
Fulton Mansion
Winery by the Way/Doggone Brewery
Happy adventuring friends, for other travel guides click here.

With Joy,
Paige