Mexia, Texas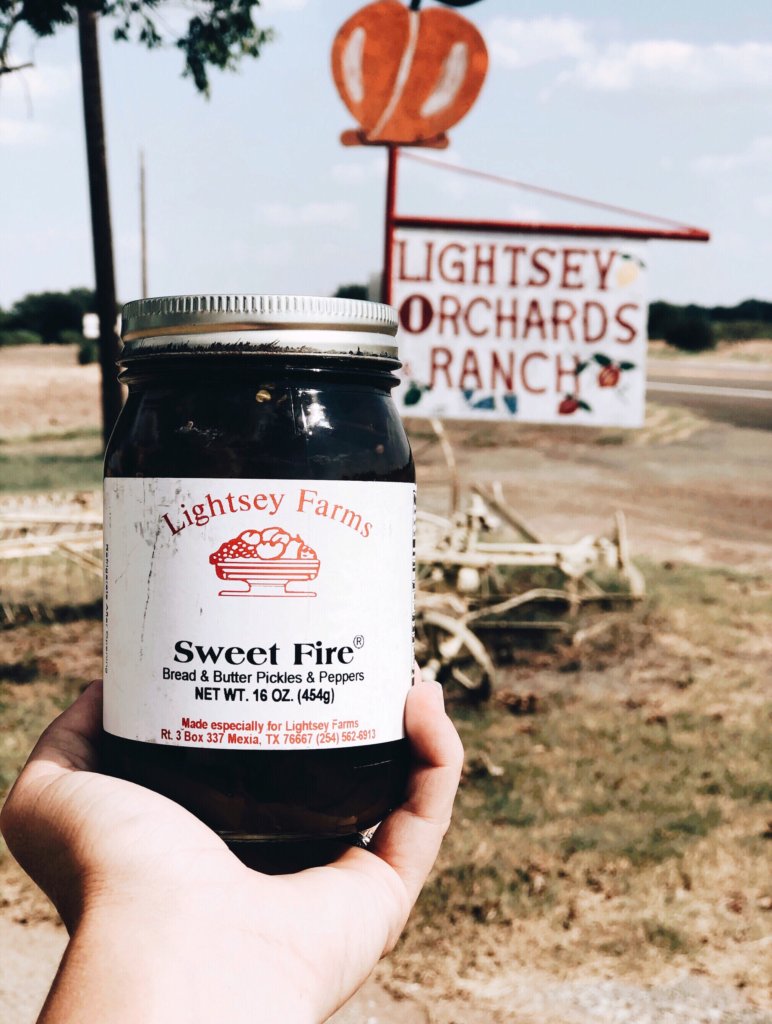 Mexia was the third stop along our RV journey. We stayed at Fort Parker State Park which I honestly had never heard of, man oh man am I glad we stopped here? While we were there we kayaked, bird watched, and had sweet friends visit. One of my favorite memories from our RV journey so far was rounding the corner in our kayak to see hundreds of birds ranging from American Pelicans to Egrets to Great Blue Herons. It was absolutely magical! Below you will find my suggestions for places to visit in Mexia as well as our Campground Review. We didn't eat out much while we were in Mexia but I do have a list of fun places to shop! This list in no way is everything you can do in Mexia, just my favorite places I found along the way.
Lightsey Orchards | Open Air Farmers Market: This farmers market is open every single day and I almost left town without stopping by. I would have absolutely regretted it. I am a pickle FANATIC and some of the best pickles I have ever eaten came from Lightsey Orchards. They have all types of produce and although I wanted to walk away with wagons of goodness, I walked away with Sweet Fire Pickles and a cantaloupe. Honestly, both were the best things we have purchased in a while, so so good! Our favorites: Cantaloupe & Sweet Fire Pickles
Old Tin Barn | Unique finds: As I was leaving Walmart, I saw this adorable place out of the corner of my eye. I did a 360 and pulled into the parking lot. They have antiques, plants, and adorable decorations that I absolutely adored. I loved the atmosphere you feel right when you walk in the door, you felt as if you would find a treasure every inch you walked deeper into the store. I walked away with a precious planter for my travel succulents(I pick up succulents from new towns along our RV journey). Times| M-Sat 10-6
Sassy Sisters Boutique | Dream wardrobe : I LOVED this little boutique. It helped that right when I walked in the door they had an entire display of fall related t shirts..honestly I wanted every single one of them. They have the cutest clothes for incredible prices. They even have a salon in the back of the door that I saw people consistently coming from so it looked very popular. Times: Tues-F 8-6, Sat 9-3
TwoForty4 Boutique | Adorable&Unique : This little boutique offered such unique gifts and clothing. As I walked around the store, everything they offered seemed to have a story or meaning behind it. They had so many cute clothes and so many wonderful gift ideas. Their setup and displays were on point and absolutely precious. I discovered Penny Lane jewelry here and I am in love! Times |Tue-Friday 11-5, Sat 10-2
Kreative Ideas& Soda Shoppe | Treasure Hunt Paradise : This little shop was full of special pieces throughout it. There are different little booths that different people have set up and there were so many fun pieces throughout at incredible prices. They even have a little Soda Shop in the back to make shopping EVEN more enjoyable! Times | Mon-Fri 8-5 Sat 10-3
Where we stayed: Fort Parker State Park
Best Sites: 17 & 19 Service: Verizon 4 bars
Pros: Gorgeous lake, sunsets, wildlife, empty during the week, plenty of trails.
Cons: Swimming Area was gross, slimy bottom and grime on top of water..not a fan. Paddling trail was stagnant.
Here is to unravelling this life we love one adventure at thyme.
With Joy,
Paige