What to do in Tucson, Arizona & Saguaro National Park?
For the City Explorer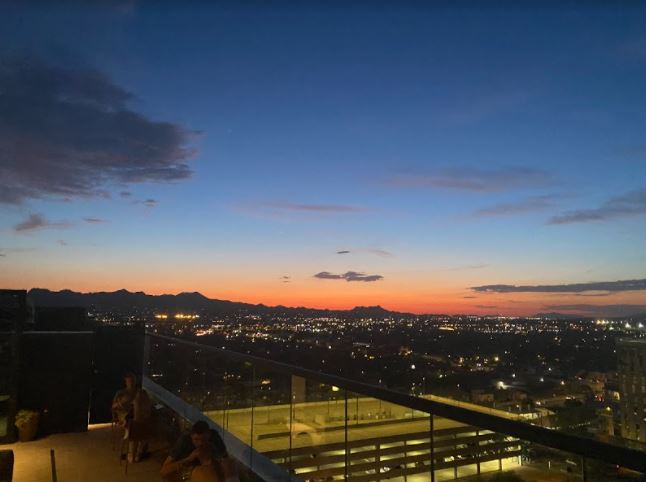 Grab a Cocktail at Graduate Hotel
Okay, the Graduate Hotel in Tucson is absolutely amazing. The decorations, the atmosphere was a very upscale boho vibe and we would love to go back just to stay in the hotel for the night.
We visited the Graduate Hotel at sunset to enjoy a cocktail on the 14th-floor bar and we were SO impressed. Cocktails are a bit more pricey than typical, but the view you will get is stunning and the weather in Tucson at night is a perfect 70 degrees or cooler.
Arrive for sunset and enjoy your drinks outside on the patio where you can soak in the sunset and a crisp breeze. I ordered an adult Capri Sun and the drink was delivered in a pouch JUST like a Capri Sun, very unique and delicious too!
Shop at A Unique Spot
The MSA Annex is such a fun place to stop. An entire shopping experience with stores and breweries located in shipping containers. We loved this quaint little area and one of our favorite stops was Why I Love Where I Live.
After you shop, stop off at Westbound to grab an ice cold drink and sit back and relax.
Drive Through Barrio Vieja
Barrio Vieja is just outside of downtown and is a small subdivision that is boasting with brightly colored homes.
We loved driving through to see homes of bright blues, purples, and yellows, and around every turn, we saw something different.
EXPLORE 4TH AVENUE
Downtown Tucson is a unique place to explore with bars, restaurants, and shops along 4th Avenue. It is a fun street to explore or simply drive down.
Visit San Xavier del Bac Mission
Another place to stop while you are in Tucson is San Xavier del Bac Mission. Founded as a catholic mission and the only intact mission in Southern Arizona, people love to stop and explore this beautiful establishment.
The inside is stunning, and if you want to explore the inside, make sure you check visiting hours. The church is typically open from 9 am- 2 pm.
For the Nature Fanatic
Drive Mount Lemmon Scenic Drive
Mount Lemmon Scenic Drive is just outside of Tucson, but absolutely worth the drive.
Our favorite part was that the higher you ago, you will watch as the landscape changes from Saguaro Cacti to pine trees and more. It is truly remarkable and a beautiful drive.
There are also multiple pull-offs to grab some amazing photos, as well as a town further up where you can grab a dessert for the road.
Visit Saguaro National Park
Saguaro National Park is a MUST visit while in the Tucson area.
It is important to note that there is a west and east side. The west side has a smaller collection of Saguaros but has more trails to hike. In contrast, the east section has a dense amount of Saguaros but fewer hiking opportunities.
As you drive into Saguaro, you will be surrounded by cacti that reach 20 feet high, and they are simply magnificent. They go on for miles and remind you how incredible nature can be. You will also see Saguaros that don't have any arms. Did you know it takes them more than 50 years to grow their first arm…mind-blowing.
For a short hike, simply do the nature trail with information along the trail and provides you with amazing views of the surrounding Saguaros.
Another short hike that is absolutely worth it is Signal Hill. Signal Hill is stocked full of history and gives you up close and personal glimpse at Petroglyphs.
For either of these hikes go in the early morning or late at night as there is truly no shade. No matter what time of day you hike at Saguaro always make sure to have sun protective clothing on as well as plenty of water for your entire group.
Explore the Desert Museum
The Arizona-Sonora Desert Museum needs to be on your to-do list while in Tucson. It is located near the east side of the national park, so you can do both while you are out that way.
This museum is unlike any museum we had been to. It is more similar to a cross between a museum and a zoo with exhibits of animals that live in the area. While there, you will see everything from wolves to bears to river otters and everything in between. All along the way, there is information about the area and the animals that reside around the Sonora desert.
We visited at night, and they even gave us a tiny black light to search for small scorpions off of the trail…so fun! Scorpions glow bright yellow when a black light is shown on them.
For the Foodie
Try Birria Ramen
Rollies is well known in and around Tucson, and for good reason. We wanted to go back and try more off of their menu. The main reason we visited was to try the famous Ramen.
Ramen at a Mexican food place sounds absolutely crazy, but we loved the combination of Mexican flavors with the simplicity of Ramen. I really liked it, and Connor loved the fries more!
We always would HIGHLY recommend their Carne Asada fries…get in our belly!
Try a Sonora Dog
We read multiple recommendations to try a Sonora Dog while you are in Tucson, so we knew we had to try one. Simply put, a Sonora Dog is a hot dog wrapped in bacon topped with pinto beans and other toppings.
We were NOT impressed at all, and we thought it tasted pretty bland. That being said, a Sonora Dog is a Tucson staple and is only made in the area, so if you are a huge hot dog fan, you may want to stop in and try it. El Guerro
Here is to unravelling this life we love on adventure at a thyme.

Shop the Look