Guide to Coral Pink Sands State Park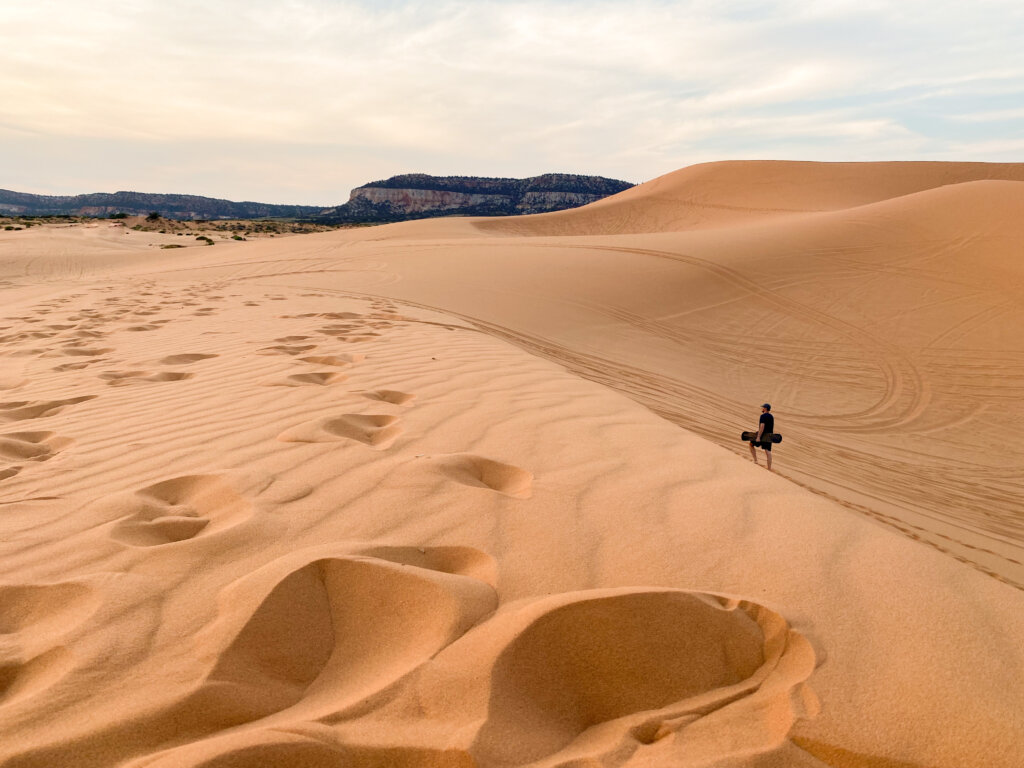 There are places to be surrounded by sand scattered all around the country. Mounds of granules that dance across the horizon every time wind blows through. Every time we walk into a sand-covered state or national park we are in awe of just how vast the amount of sand is. Each place puts a beach covered with sand on the back burner as you climb, trek, and walk over sand that sits miles high.
While sand is not our favorite thing in the world because of its intricate way of maneuvering into everything you own, we would recommend sandboarding to anyone.
Coral Pink Sands State Park outside of Kanab, Utah is different from the other sand-focused parks because of the color of the sand. As you drive up instead of being greeted with white or tan san, you will see a masterpiece of deep orange sand that glistens on the horizon.
Go Sandboarding
The main reason we knew we had to visit Coral Pink Sands was for the sandboarding. We tried out sledding at the previous parks and knew we wanted to try something new. Sandboarding was an absolute blast, even if we wiped out a few times before actually making it down.
You can rent a sandboard or sled at the visitor center.
We had the best luck at the dune right behind the giant one. As you walk out, you will see a huge dune, walk behind it and you will find a perfect spot to sandboard.
Let me tell you what was not nearly as much fun….hiking back up the dunes. The dunes sure don't look that steep when you are going down them, but when you turn around and hike up it seems you are the next hiker on Mount Everest. The hike up the dunes is no joke, we took turns sandboarding so we could catch our breath.
We decided next time we sandboard, we will just rent an ATV to drive us to the top…?
Rent an ATV
Although we didn't get to rent an ATV, plenty of people were flying across the dunes on four wheels. It was fun to watch some catch air as they went full speed over dunes in the distance. There are multiple outfitters where you can rent an ATV including Coral Pink ATV Tours.
Tips for Visiting Coral Pink Sands
Leave your shoes in the car
There is the main parking lot where you can park and walk down to the dunes. Walking through dunes with shoes on will only land you with sand-filled shoes. The sand is soft, so just leave your shoes behind. Plus when you use a sandboard you can either go barefoot or leave your socks on so you truly don't need your shoes.
Bring Water
As I mentioned earlier, hiking up dunes is full-blown cardio. Make sure to load up your Camelbak with water and have enough water for everyone to use. You wouldn't think you would need water, but let me tell you…you do.
Stay for Sunset
The orange of the sand coupled with the sunset peaking over the miles of sand is a sight to see. After you have sandboarded for a few hours you will want to sit back and relax, and what is better than soaking up a sunset.
There are so many adventures to be had in and around Kanab, Utah, one-stop for all of the adventure seekers out there is Coral Pink Sand Dunes.

Check out our other travel guides here.
Here is to unravelling this life we love one adventure at a thyme.