Texas | At Home
Ideas to create your own Texas Day at home.
With everything that is going on all around us, we may need some extra encouragement to find new and exciting things to do while we are at home. Below you will find my suggestions for traveling Texas virtually as well as ideas to create a Texas themed day from food to activities to music and more.
Bluebell | Icecream has the power to change your entire days trajectory, and Bluebell never fails. Try a basic homemade vanilla icecream and make coke floats while you sit on the back porch!
Whataburger | Drive thru your local Whataburger to start your Texas night off right, not from Texas? Grab some Whataburger Spicy Ketchup off a Walmart Shelf and add it to your burger to understand all Texans obsession with this Food Heaven or grab some delicious queso because we all know that happiness in Texas is spelled QUESO.
Visit the Alamo | Visit the Alamo from the comfort of your living room. Travel the rooms of the Alamo and learn interesting facts as you go. Escape the heat and learn some Texas history while still in your pajamas. The Alamo website even has lesson plans and other resources to continue learning.
Two Step | Need some good ole country music, check out the playlists below to Two Step the night away in your living room.
Attend a Virtual Country Concert | With so many venues closing down, many artists have turned to online shows.
Aaron Watson Live | April 1, 7pm CST Aaron Watson is preparing for a Facebook Live concert tonight for all to enjoy. If you are a huge Aaron Watson fan like me, make sure to tune in tonight!
Wade Bowen Facebook Live| Fridays 8 CST With concerts being cancelled for so many artists, Wacos own Wade Brown took to Facebook to offer Wades World. Wades World on Facebook, Fridays 8 CST where he plays at home sessions, answers questions and more! So FUN!
Sunday April 5, 2020 CBS at 8/7 central : At home acoustic performances from a ton of country artists(Kelsea Ballerini, Dierks Bentley, Carrie Underwood, and a TON more)!
Big Machine Label Group is having Instagram Story takeovers, Homeschool tips, and songs by big name country artists. Follow them to see what they are up to next!
Live Nation is offering many at home concerts to watch from Miley Cyrus to Ben Folds to Lecrae and everything in between!
Set up a backyard rodeo | Do you have horses on a stick? Do you have a broom? Use what you have and set up an obstacle course. Kiddos get on the "horse" and complete the course as fast as they can. Some ideas would be using containers or trees for "barrel racing", stuffed animals and ribbon for "calf tying", use hula hoops for "calf roping", and more!
Austin, Texas Virtual | Did you have plans to visit Austin that were halted by everything that is going on? Use this amazing resource to travel to some of Austins most well known places from Mount Bonnell to Hope Outdoor Gallery and more.
Make some Southern Sweet Tea | Find a recipe for some sugar heavy Southern Sweet Tea, and for the adults add some Deep Eddy's Peach Vodka to make a drink that has southern written all over it!
Take a Virtual Tour of the Texas State Capitol | Learn about the Texas State Capitol with kids or just peruse the gorgeous architecture yourself as you immerse in the amazing virtual photographs by George Ramirez.
Bluebonnet Photoshoot | Find some bluebonnets to take a photoshoot with your kids so you can take a break from being at home and make some cute memories to last a lifetime! Can't find bluebonnets? Grab a canvas and paint some bluebonnets or try this FREE bluebonnet craft.
Print or Screenshot the Texas At Home Bucket List.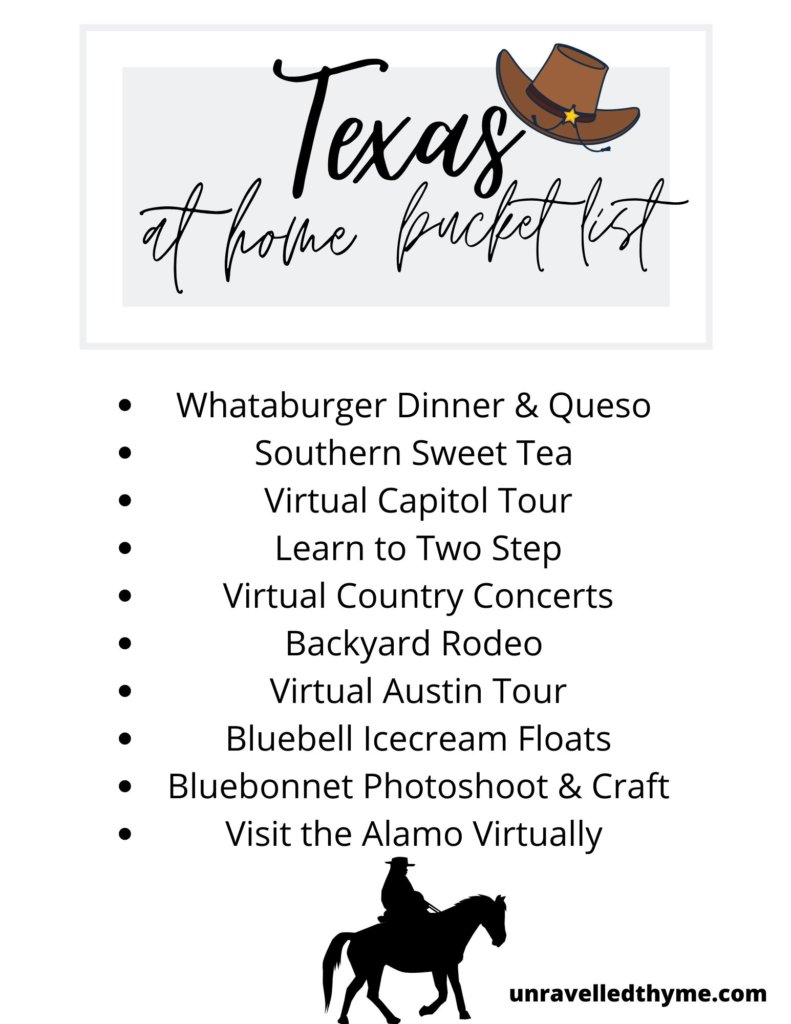 Here is to unravelling this life one adventure (at home) at a thyme!
With Joy,
P
---
---