Sunshine Blogger Award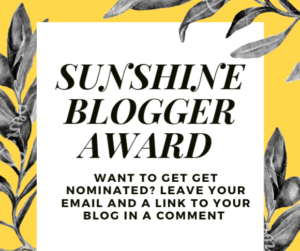 Oh me, oh my, I am so overjoyed to be picked by Fabulously Mom as one of her choices for the Sunshine Blog award. She had to look thru many blogs and she picked mine as one of her favorites. I am so honored!!!
What motivates you the most to blog?

I absolutely love writing and sharing that with other people. I find great joy in writing posts about some of my greatest passions in hopes it will encourage someone else.

Share a post you are so proud of?

A post I am proud of is my post on The Weedwacker because it speaks such truth into my own life. I have always seen the Lord show up in Nature and this post speaks of a perfect example of the Lords grace and love.

How many times you blog per week?

I try to work on my blog at least once a week.

What's your favorite book?

One of my all time favorite books is Redeemed Love by Francine Rivers.

Why did you start blogging?

I started blogging because I love to explore and find new adventures and I wanted to share that love with others. I also began blogging because I LOVE to write and share my stories.

What made you chose your blog's niche?

I chose my blog's niche because of my great love for travel, even if it is around your hometown, I love finding hidden gems in each new place I visit. I also love sharing my art and writing about my faith.

How do you get yourself motivated to write in your blog?

I got myself motivated to write my blog because of how much I truly love to write and I wanted to inspire others to explore their own passions and loves.

Give an advice to all the bloggers who just started?

DO NOT compare yourself to other bloggers, it will steal all the joy from blogging. Instead find what you love to write about and just go with it!

Do you love blogging?

I do love blogging and hearing back from people who read my blog!

Who is your favorite blogger?

One of my favorite bloggers is Todays Letters because of her love of her family, nature, and her passions. She is real and I love following her!

Who inspires you the most in life generally?

I would say my mom because of how she pursues her passions no matter what and is always encouraging those around her.
If you would like to get nominated please leave your blog name as well as your email in a comment and I will pick 11 blogs I LOVE.
With Joy,
Paige
---
---