Brews & Balloons | Shreveport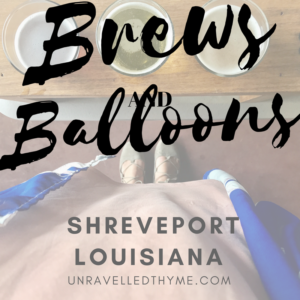 As we got into our car to travel to Shreveport, I truly had no idea what to expect. I had not been to Shreveport in a very long time and when I was there it seemed we just passed through quickly. We gathered up what we needed for the day and went on our merry way. That is what I love best about adventuring and being curious is that you never know the treasures you will uncover along your journey. We drive( and by me I totally mean Con, I am about as helpful on a road trip as the pillow that my head is leaned up against during the ride) to Shreveport and it seems as though we are there in a flash. From Tyler TX to Shreveport, LA it is only an hour and a half. When I say an hour and a half, it FLIES by and is such a simple drive. It was worth every mile to visit this town because we fell in love with it.
Our first stop on our Shreveport Adventure was at a little place that serves the most creative menu of food, Ki Mexico.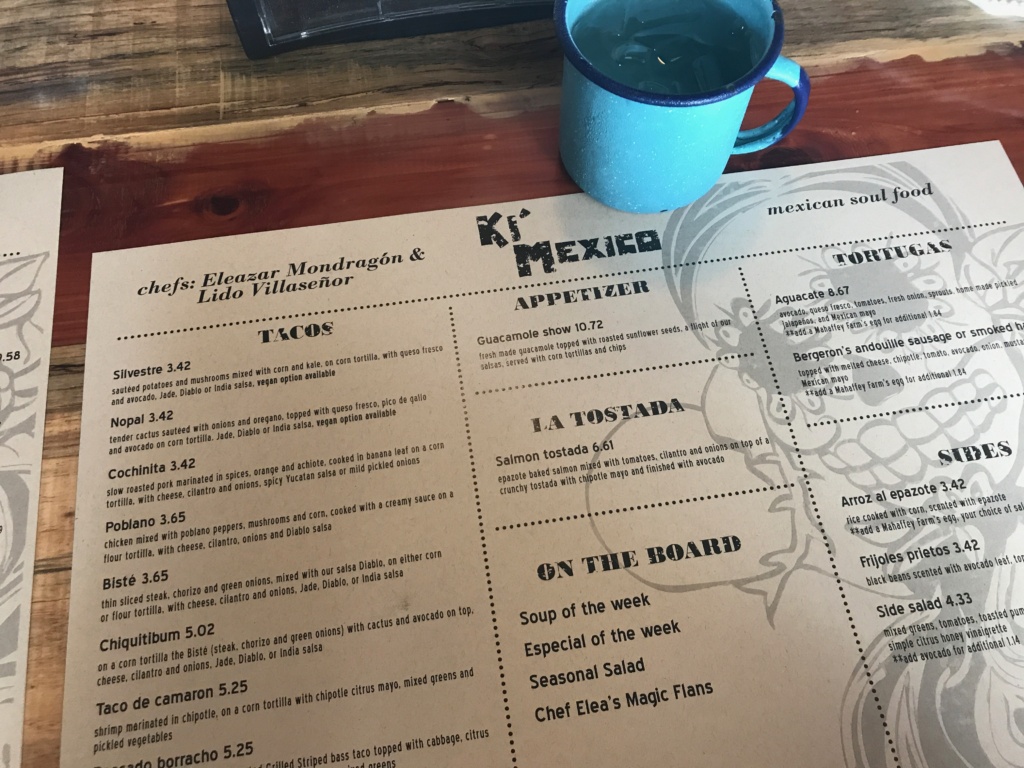 I was instantly a fan of the atmosphere and if you know me I am a downright obnoxious fan of enamelware, blue, camping, adorable enamelware. I LOVE it a little too much. It seems as if the staff at Ki Mexico just knew this little fact about me because they served the entire meal in enamelware plates and bowls. It made eating the food that much more fun. As I began perusing the menu, I was slightly overwhelmed at first, Cactus Taco, Octopus Special, umm I dont know what I have gotten myself into. I will tell you now that be adventerous and try something because all of the food was incredible! That was the fun about eating here, that there were so many creative menu options that kept you f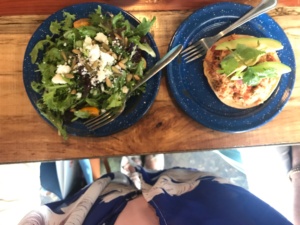 rom getting the same thing you get every place you go. Our absolute favorite foods from Ki Mexico was the Poblano Taco…my mouth is watering just thinking about scarfing one of these down, Guacamole Appetizer….I don't know what they put in their guacamole but I am convinced it is a little piece of heaven, and their Hibiscus tea..if you don't already feel like you are dining in style then get this delicious drink to finish your meal. They also had a hibiscus margarita that would be SO worth trying because I had many people rave about how amazing it was!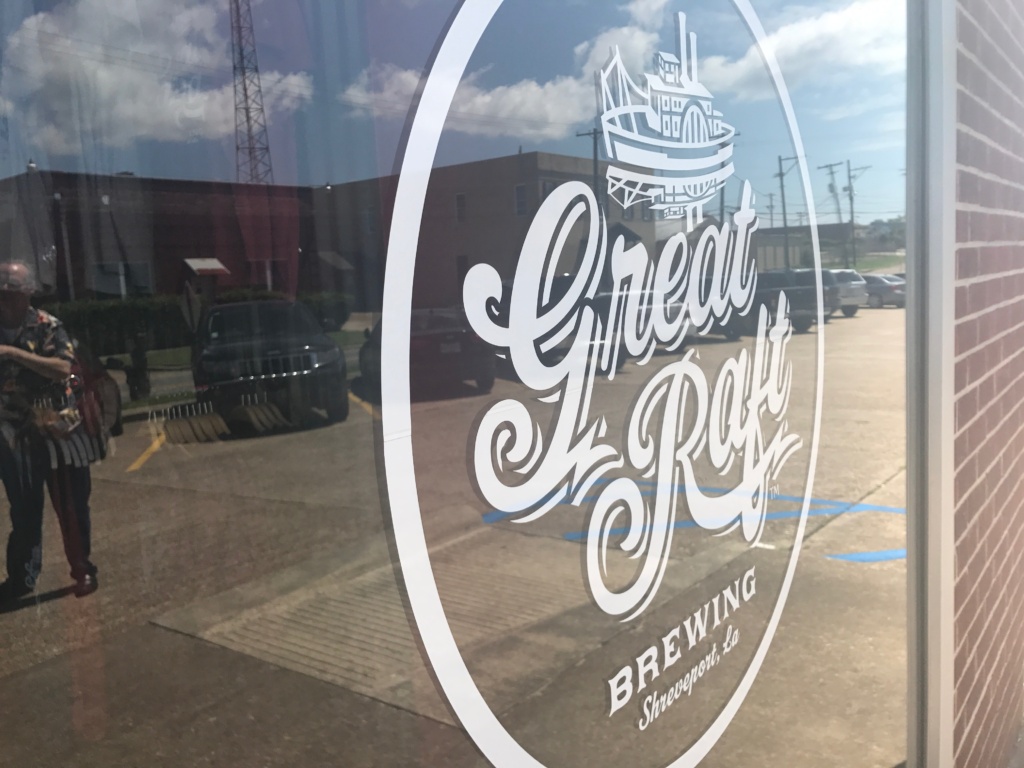 After our bellies and hearts were full from Ki Mexico we started the infamous Shreveport Brewery Crawl…du du dunnnn. Our first stop, Great Raft Brewery. Great Raft was the first brewery opened in Shreveport since prohibition. We got to go on a tour around the Brewery with one of the owners, Lindsey, and as we moved around the Brewery you could see her light up as she spoke of a place that she truly has a heart and passion for. We sampled almost every one of Great Raft beers and we came to the conclusion that the ones we liked the best were Grace and Grit(Double IPA), Reasonably Corrupt(Black Lager), Commotion(American Pale Ale), Southern Draw(Pale Lager), and Lime Gose . Now I will tell you that  Reasonably Corrupt looks scary if you are not one who likes dark beers but this one is not as heavy as most of the dark beers I have tried. Now, I am still one who leans toward lighter beers but I did not mind Reasonably Corrupt. Con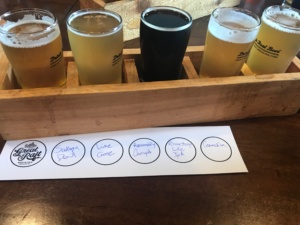 really liked Grace & Grit and Reasonably Corrupt, so they totally have the man vote. Lime Gose is a very light simple beer with a light sour lime taste, it was very easy to drink and refreshing. I think my favorite was Commotion because of course I love me some Pale Ale! That is the beauty of Great Raft they have a variety of different beers to suit anyones taste buds. Also, on a side note I wanted to buy every one of their shirts because of how soft they were but in other news if you are in Shreveport do yourself a favor and visit Great Raft.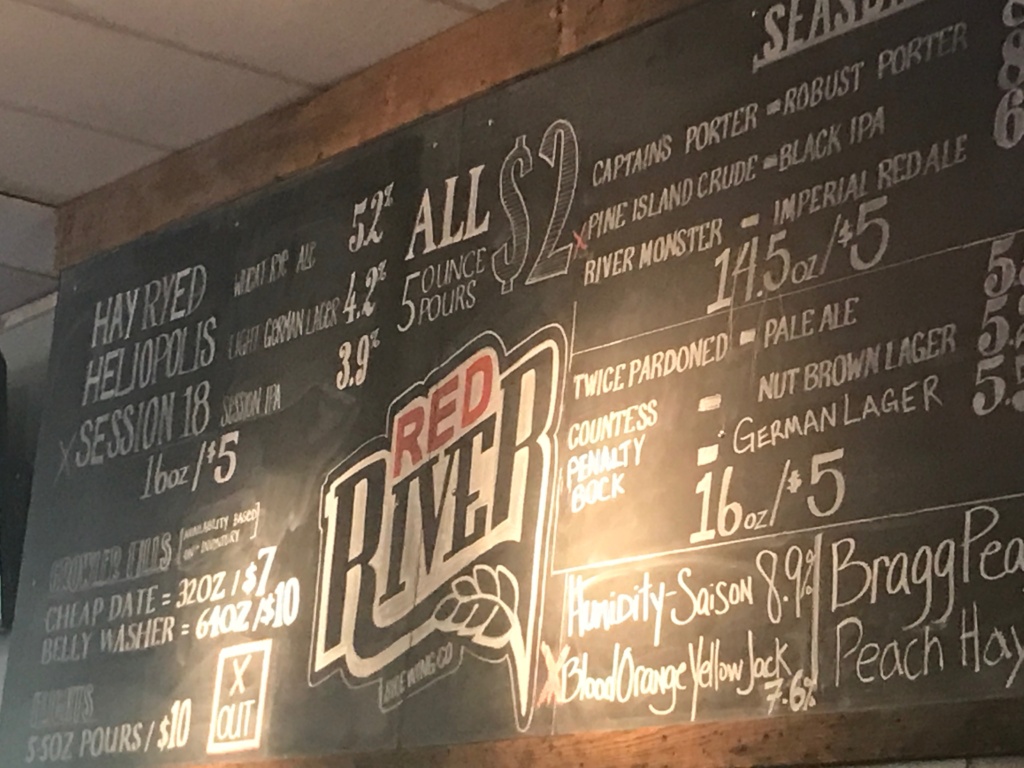 Our next stop was at Red River Brewery. Red River was truly a neat place that had a very inviting and open atmosphere. They had a section for games, think cornhole and more, a section for ping pong, and a place designated for families with kiddos. We thought the atmosphere was truly one of a kind and if yo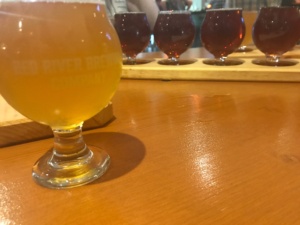 u didnt want to just sit and talk there was plenty of other things to do. Another neat part of Red River is their tasting room had windows into the beer making world of Red River, so you can drink away at their different beers all the while watch the masters themselves making beers.  A beer that I truly liked from Red River was the Hay Ryed!!
Our final destination of breweries was Flying Heart Brewery.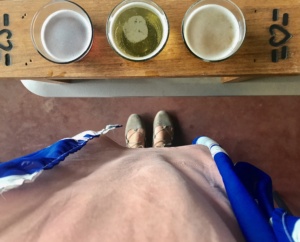 The owner renovated an old firestation which gives this brewery an immense amount of uniqueness and charm. They had a back patio that opened in to their tasting room equipped with fans and tables crafted out of fire hydrants. At Flying Heart they had  range of beers that had very different flavors. We had the honor of meeting with one of the owners, Ben Hart. When his wife left for an overseas deployment he turned to making beer to fill his time which, with another couple, quickly became Flying Heart Brewery. Flying Heart Brewery was a very neat atmosphere and while we were there a lot of people were coming in and out enjoying socializing and some beer, a fun place for people to relax and unwind.
Before we could head back to the good ole roads of East Texas we stopped off at the Red River Balloon Festival that was taking place. It was hotter than a plate of fajitas at Pappasitos when we arrived so I would definitely recommend going a little bit later in the day. Around 6 or so is when it was great weather to be outside and we enjoyed getting to see the hot air balloons. There were hot air balloon rides,  and hot air balloons were being put up when we arrived (weather caused them to have to take down for a little bit) but  man oh man were they awesome once they were up. There was a booth that was selling a churro filled with ice cream…I repeat a churro filled with ice cream. As bad as that sounds for your health I felt my body being drawn to the booth every time I passed it. I decided against it but they had all kinds of fair food for reallllllyy good prices. To top it all of they had Rodney Atkins on the stage for the nightly festivities.  We did not get to stay for the Hot air balloon light show and fireworks but we are sure it was amazing.
We truly enjoyed Shreveport! We got to explore downtown and we even drove thru the Louisiana Boardwalk full of shops and CHEESECAKE..need I say more. Casinos galore, shopping, food, AND now three breweries. Take a day trip and go explore Shreveport, you will love what you find.
With Joy,
Paige
---
---