MUST DO in Australia.
Australia is a vasttt continent. West is very different from East and everything seems to be spaced out more than you thought. I am here to give you a list of the MUST DOs in different areas on the  EAST coast..the ones that are worth your time!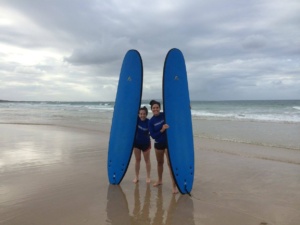 BRISBANE
| Koala Sanctuary | One of my favorite places. You are first greeted by Koalas everywhere. They have babies, retirement home koalas, and you can even get a picture with one. The first koala I tried to hold was not having it and their claws are sharper than they look! You can also buy a two dollar bag of food and walk into an exhibit surrounded by kangaroos and feed them…perfection!
| Australia Zoo | My favorite part of the Australia zoo was the show, they had birds flying everywhere and not one flew out of the arena! I also loved getting to see the different crocs and the information about Steve Irwin..he is a hero in Australia!
CAIRNS
| Night Markets | Most things in the night markets are created other places besides Australia. If you want cheap souvenirs you can get some here but not the best quality.
| Snorkel Great Barrier Reef | My top thing in Australia. As we swam out with our snorkel gear all we saw was sea grass and we were getting disappointed. We keep swimming and run into the most stunning coral and fish we had ever seen. Every color of the rainbow! Worth every penny. DO two hours snorkeling and skip the glass bottom boat(although we did see nemo there)
| Parasailing- Not my favorite because it didn't last long, but still fun.
| Grill'd Burgers | Love these burgers, they are the messiest burger we have every eaten, but my oh my were they good!
SYDNEY
| German Pub | Every kind of german sausage you can find and get a beer for the perfect meal. The bread with dip  is amazing as well.
| Footie Game | We saw a game Manly against another team and it was so much fun! It moves so quick but it is an easy game to catch onto.
| Sydney Harbour | Beautiful, No words needed. There is a Sydney Bridge Climb as well that if we had more time would have been a blast.
| Blue Mountains | Gorgeous scenery, when we went there were a lot of tourists so go on an off season. The huge staircase is an absolute workout…we only made it halfway and turned around.
| Scenic World | Steepest Railway in the World. Riding back up is way more fun than going down!
| Hillsong Church | Worth it, except when we went there was a visiting pastor from the states so it took the fun out of going to an Australian church.
| Bondi Beach | The softest sand ever! I could just walk in it all day.
COFFS HARBOUR
| Camel Riding on the Beach | SO MUCH FUN! I may be biased because camels are my absolute favorite things on this planet. It is reasonably priced too and you may see dolphins!
| Big Banana | A huge banana and everything banana related, banana icecream, banana candy, you name it, they have banana flavored.
NOOSA
| Surf Lessons | This was way harder than we expected. We were so determined to stand up that we kept going out time and time again. I highly recommend this to people who are determined and love learning new things. It is a bit more of a workout than you would expect, but SO  fun!
| Cute cafes and shops | Noosa downtown is more upscale, but seconds from the beach which is a fun day trip to make.
| Noosa National Park | The trail that goes right along the coast is an absolute most. You can see surfers and just gaze at the beauty of the ocean.
RAINBOW BEACH
| Beachtime | Rainbow beach is called rainbow beach because there are multiple colors of sand that can be seen, especially near the sandblow. It was a great place to go swim, but make sure to swim between the flags.
| Carlo Sand Blow | I SO wish we could have done this, but we did not bring the proper sandboard that you can ride down parts of the sandblow. It is perfect to watch the sunset as well!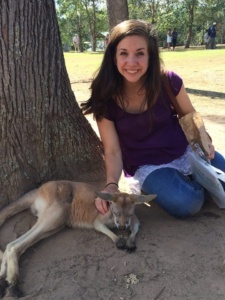 I hope this helps plan your travel adventures!
With Joy,
Paige
---
---