Gatlinburg TN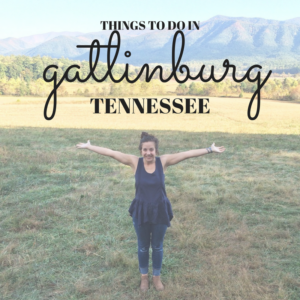 For months my husband had prepared a surprise honeymoon. I had NO idea where we were going, whether it was going to be hot or cold, whether we were going to fly or take a carriage, I was absolutely clueless.
We drove to the airport and he hands me the ticket. Asheville. My first reaction at 5  in the morning, OH MY GOODNESS we are going to Nashville?!? Connor looked at me with a crazy look that promptly guided me to reread the ticket. Asheville, North Carolina…umm neat, cool, I have never heard of this place…so much for the surprise. We land in Asheville where we venture to the rent a car section of the airport.
We load up our Jeep rent a car( aka my favorite cars in the world) and we start driving to what I thought was our hotel in Asheville, NC…nope, I was wrong again. An hour and a half later we see a sign for Gatlinburg, TN. I began to do a little victory dance as I knew that we were in Smoky Mountain Territory. I fell in love with Gatlinburg in a moment, or it may have been a second, needless to say it did not take long. The view, the people, the scenery, the weather…oh my, take all my money I will move here. After a week of adventuring around we came to a conclusion that this was not our last trip to the Smokies and compiled what our favorite parts of the trip were.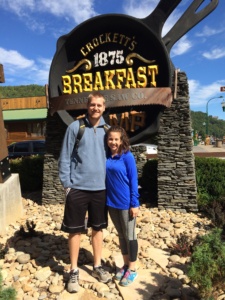 When it comes to food our number one all time better than anything we have ever eaten BREAKFAST food was Crocketts Breakfast Camp.  Slap ya mama my mouth is watering just thinking about it. I am not a ham girl and I will tell you I would have filled my backpack with their country ham if it was not frowned upon. Absolutely DELICIOUS. We ordered the Black Bear skillet every time we went. I am not ashamed to say we went three times in our 5 day trip, no shame when you are eating biscuits and gravy every morning. Another place we LOVED was the Smoky Mountain Brewery, pizza & beer, can you go wrong?
We also of course being the nature fanatics we are venture into the National Park. Just so we all know if you ever want to see a bear in a National park, you literally have to do nothing, just look for all those crazy cuckoos that are pulled on the side of the road walking up to a black bear… I repeat a Black Bear. I am all for amazing pictures, but do we realize that a Black Bear has no problem knocking you out and all your friends too. We still pulled over everytime we saw a line of tourists pulled over because of course we are tourists too, we have to fit in right? After spotting multiple black bears we decided "hey lets head to bear terrority and just hike along side them?". Just kidding! I truly think bears are absolutely majestic and they were incredible to see in their natural habitat.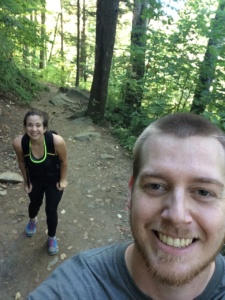 We then hiked halfway up a trail that said it was 6 miles. With immense hiking confidence we set out on the trail knowing we would make it to the top in no time, "6 miles….that is nothing!" we proclaimed. We regretted our statement about 1/4 of the way up the first 3 miles as the trail continued to wind up the mountain and we quickly realized that these trails are a smidge different than our good ole flat Texas trails. 8 gallons of water, one too many stops to "take pictures" when really I needed oxygen, and we made it halfway up the trail before we had to turn around because it was later in the day and it was to get dark soon. When we go back we are definitely going to work on knocking out more of these amazing trails, the scenery is remarkable.
We then ventured to Cades Cove. UMMM….go, no matter what you are doing, make sure to go to Cades Cove. It is an original settlement community in the Smokies and you can walk or drive, we chose to drive because we just hiked our life away, and it was perfect! The whole time Con was driving all I kept saying was " Can you believe people got to live here with this kind of scenery?" It was absolutely breathtaking. We saw multiple deer and a few black bears as well which always makes things exciting.
One thing I would tell you to steer away from if you are venturing to Gatlinburg is the Skylift. Con and I truly believed in our heart that once we got to the top there was going to be a festival awaiting our arrival. We were instantly defeated when we reached the top and we automatically came right back down. Now I will be real, there is a little shop up there, but 12 dollars per person to ride up there is so not worth it to us.
Something we did love is that we were there during Okoberfest. They have it every October and it takes place for multiple weeks. One of the best parts is the aerial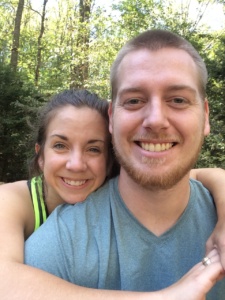 tramway that you have to take to get up to Ober Gatlinburg. Usually, it is used for skiing but in there off months they have Oktoberfest festival up there. Once there, we bought beer tickets and got to taste test ALL kinds of German beers, and I mean all kinds, they had a lot to choose from.  It was really a fun time! They also had a sky coaster that we rode, I totally beat Con, so it was ABSOLUTELY worth it! There was a wildlife encounter where you could see a couple of bears and river otters. The wildlife encounter is very small but if you love animals it may be worth it for you, I thought it was a little small for the price.
Another festival we were there for was the Arts & Crafts show they have every year, can you say perfect for me, the craft fanatic! It cost to get in, I believe it was 7 dollars but you get to see all kinds of artisans create and sell their crafts. Gatlinburg is such a HUGE arts and crafts town that they have their own section of the town designated specifically for it. They have an Arts & Crafts trail you can drive and stop at different shops that have artists usually demonstrating their craft. We spent a good while in the convention center at the Craft show, there was someone demonstrating how to blow glass which was really interesting. I would definitely recommend this fair to anyone going to Gatlinburg in October.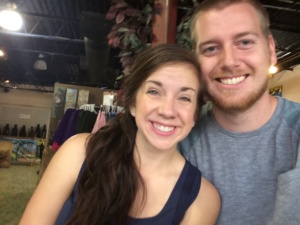 Of course being the adventure fanatics we are we had to do some outdoor adventure. Our choice for Gatlinburg was zipling and horseback riding through the smokies, they were both worth every penny. My heart breaks to inform my readers that Zip Gatlinburg was affected by the horrendous wildfires. They are in the process of rebuilding. When it comes to shopping for outdoor awesomness, please for your sake visit NOC Gatlinburg, and make sure to hold your jaw as it may hit the floor from all the incredible things inside.
Last, but certainly not least, is the Tennessee moonshine. We tried Ole Smokey Moonshine and Sugarlands moonshine and by far without a shadow of a doubt our favorite was Sugarlands. We have been back to Texas for a while now but we swear by Sugarlands Apple Pie Moonshine……….if I won the lottery I would designate an entire shelf solely for this greatness. It tastes like a caramel apple lollipop, but better, way better. .
I think if I continued to write about my love for Gatlinburg Tennessee, I would be selling Gatlinburg Tennessee Novels. I will post a printable list soon that you can take with you on your travels.
Here is to unravelling this life we live one moment at a thyme.
With Joy,
Paige
---
---