FREE Printable Guide | Gatlinburg TN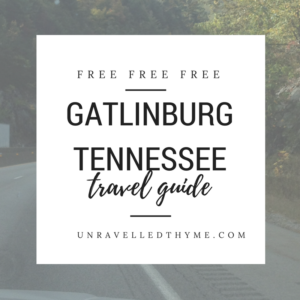 Every town has so many incredible sights, places to eat, and things to do. Here is Unravelled Thymes list of our favorites on our last trip to Gatlinburg. In no way is this list a comprehensive paper of ALL the amazing things there is to do in Gatlinburg, it is just a basis of what we loved MOST on our trip. I hope you enjoy and use this travel guide to help you and your family get the most you possibly can out of the amazing town of Gatlinburg. I could not recommend it enough, take the time and go visit, you will not regret it!
Without further adieu….your FREE Gatlinburg Tennessee Travel Guide.
FREE FREE FREE ————->>>>>>>Gatlinburg Tennessee Travel Guide
This guide should be used for personal use only.
With Joy,
Paige
---
---