East Texas Travel | MINEOLA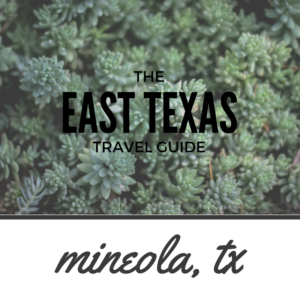 For the giant and I's year anniversary he planned a trip to Mineola and I just adored the little town. Now,  four years later, I ventured back to the streets of Mineola and fell even more in love with its quaintness.
As my Mom and I drove into the town of Mineola, we were instantly engulfed by the small town feel. I have a soft spot in my heart for cute places that are still full of life and businesses. Mineola is one of them. Many of the buildings are full of restaurants, shops, antique stores, and more. It is a splendid place to spend the day.
Our first stop was at an adorable hardware store named Kitchens Hardware and Deli for lunch. When we open the front door we instantly stepped back into time. As we continued to step into Kitchens Hardware we were surrounded by old antique tools and signs on the walls, an ice cream counter, and little Knick knacks you could buy all over the store. We quickly sat down ordered our sweet teas and began perusing around to see what treasures we could find. Now, they still function as a hardware store so you can find hardware supplies as well. The little gifts placed around the store was what caught our eye. Then we ordered a Reuben and chicken salad. Lets just say the fries and Reuben did not have a home on my plate for too long…hello food baby! It was delicious. My mom got the chicken salad and we were not crazy impressed, it may have just been a bad day for it because I have heard it is usually pretty good.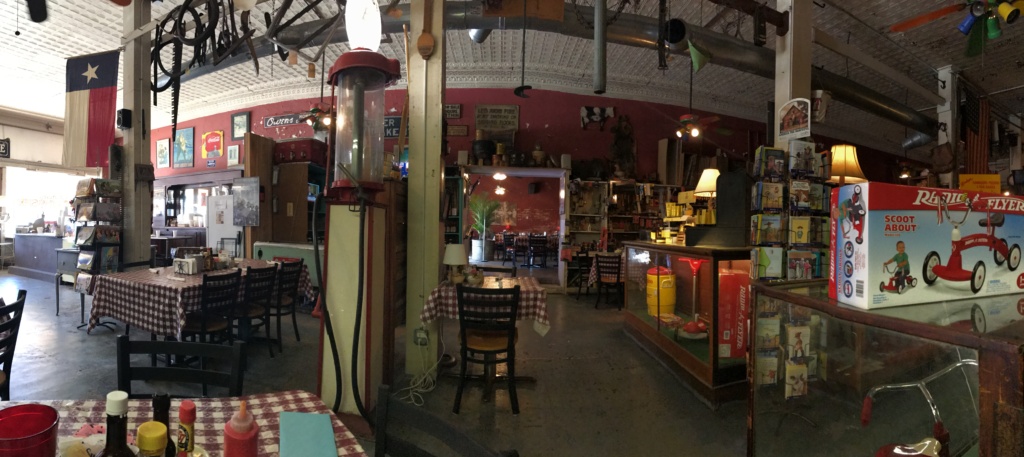 After we were full to the brim we began our walk around town. I always love exploring, walking, and finding treasures wherever I go. Usually in small towns there are two shops and a restaurant or two and not much else. Mineola has plenty of shopping, fun,  and food to give you fuel. There were plenty of antique stores, stores that offered all kinds of farmhouse cuteness, and even stores that offered fried pies if you have sweet "TEETH" like me. I cannot say no to sweets…its  a real problem. The fried pies seemed to have a pudding in the middle which was a different consistency for me, but scrumptious!!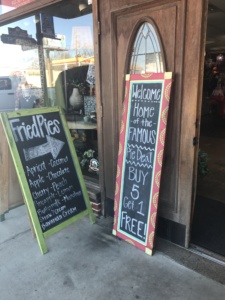 Our next stop was a place I had been looking forward to visiting for quite some time…The Waldo Way Dairy Farm. As we drove out into the country I got giddy with excitement. See I am a child when it comes to travel, I get an immense amount of joy researching places and finding the hometown treasures. The Waldo Dairy Farm is truly a treasure. Since they have renovated and moved to a bigger space, the land, the buildings are b-e-a-utiful! We drive past the gate with cows on either side and pull up to a big white farmhouse. We take the step inside and make our way to where all the goodies are.  They also offer a tour on Saturday of the whole milking process. We grab a couple probiotic drinks, the "special butter" as my friend calls it, and some peanut butter, but we truly could have bought so much more if our wallets had not stopped us. They offer meat, all kinds of milk, and they even offer classes for making cheese, or cooking classes. Like them on Facebook and they are great about keeping you in the loop!
Once we walked around the town and shopped for too long we loaded up our car with our bags and headed out to the Mineola Nature Preserve to watch the sunset. I am a huge nature fanatic and I fell in love with this place again. Trails for miles, along swamps, flowering trees, and ponds full of fish with food you can buy for a quarter. Yes, we fed the fish and it was a blast. As we walked there are different things along the trail, at one point we came upon a working bee hive that someone had built and used for educational purposes, when we went it wasn't operational but still neat if it is back up and working. It was a great place to go while the weather was cool and just chat about life while surrounded by nature.
All in all Mineola is a little town with SO much to offer. There are still places I have yet to try, but I will absolutely be going back!
Here are places you should check out besides the ones mentioned above!!
FOOD:
Craw Daddys | Crawfish, Catfish, Shrimp get in my belly.
Texas Burger | Greasy, cheesy, delicious burgers.
OTHER:
Select Theater | One room movie theater with new and old movies.
Grand Oaks Winery | Very close the Mineola Nature Preserve, Fridays & Saturdays
EVENTS:
Farmers Market | How could you say no to Farmers Markets!! Saturday 8-11
Rails & Ales | October 7, 8  Travel from Mineola to Fort Worth with Craft Beer, sounds like a party to me.
With Joy,
Paige
---
---