East Texas Travel | JEFFERSON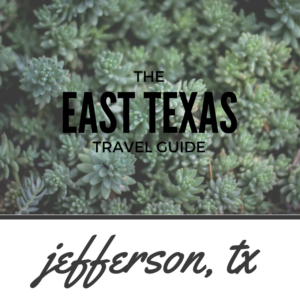 My oh my, I have discovered my FAVORITE east texas town…so far in  my adventure!! Jefferson, Texas is a secret little treasure that is absolutely adorable, full of life, and offers so much.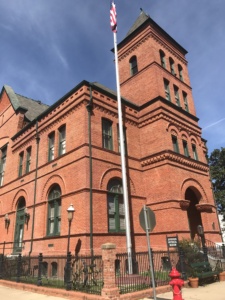 As you drive down the streets you feel like you are in a dream or you somehow landed in the back to the future car. Jefferson makes you feel like you are in a whole other time era. Its architecture is stunning, even the Jefferson bank is gorgeous. As we drive down each street we discover the cutest little houses, bed and breakfasts on almost every corner, and we are greeted by the friendliest locals.
We began our Jefferson adventure at the Jefferson General Store. You will need to set aside 60 hours just to see everything inside. Lord knows how long we spent in there, the building seemed to keep going and going with more and more goodies to buy. There were sweets, snacks, gifts, toys, cards, shirts, kitchen décor, and old time candy and soda. One thing we tried and were not a fan of were the deep fried peanuts,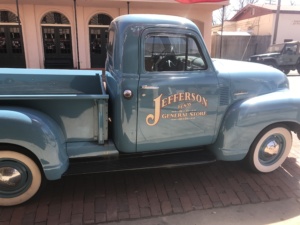 I am someone who is always willing to try things, but these were odd and they got stuck in my teeth and I couldn't get them out…bleh! Even if we went back the hour after we left I think we would have found things we had not seen before because the store was packed with awesomeness. Definitely recommend stopping by
We continued shopping and came across multiple antique shops! One we did not venture into was Old Mill Antiques because we were told it was haunted and I'm not about that life, and I'm a baby…a real baby nobody would want to see me in that situation. There were multiple other antique stores that were fun to peruse around and look at, I am just to cheap most of the time when it comes to antiques so we didn't end up buying any.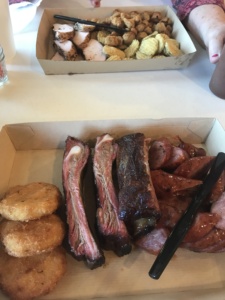 Next we of course had to eat, I mean what's a day trip without some local food and I am sucker for BBQ and sweet tea. We walked over to Riverport BBQ and had some DELICIOUS BBQ!! I had never had hot water cornbread and It was actually pretty good. We got the turkey and sausage and ribs which were delicious. We rolled ourselves out of River port BBQ and adventured around town. We came across adorable Bed and Breakfasts, an artist studio in the making, and found treasures around every turn.
If you don't know already I am a nature nerd so anytime I can fit outdoors in the itinerary I do. Next on our list was Caddo Lake State Park, which had been on my list for quite some time as it is the only natural lake in Texas. The pictures always show cypress trees covered in Spanish moss overlooking Caddo Lake and my outdoor enthusiast heart skips a beat. When we got there as we were driving in we were not initially impressed, it was kind of gloomy from a recent rain and I thought we were going to be utterly disappointed. We keep driving down to where there are picnic tables overlooking the water which was our favorite spot. It was stunning with the trees and moss reflecting into the water and the water was so still! It was very peaceful down there. The only trail we got to  hike was close to the parking lot and it was not super clean because of the recent rain so we will have to go back. All and all, go to Caddo Lake, pack a picnic, eat down by the water, and then canoe the day away!
Jefferson Texas has a little piece of my heart and I of course did not get to try all the restaurants or go on the steam boat tour but we will be back!
Other places around town:
Riverport BBQ | BBQ is always a good idea
Austin Street Bistro | Adorable, airy, open restaurant next to General Store.
Auntie Skinners | more of a bar feel but neat!
Kitts Kornbread | Cornbread sandwiches and more!
Jefferson Bayou Tours | 10.00 for adults 1 hour
Lone Star Carriage Company | Tours around town by carriage
Jefferson Ghost Tours| NO thank you but if this is up your alley, Jefferson is perfect for it!
With Joy,
Paige
---
---